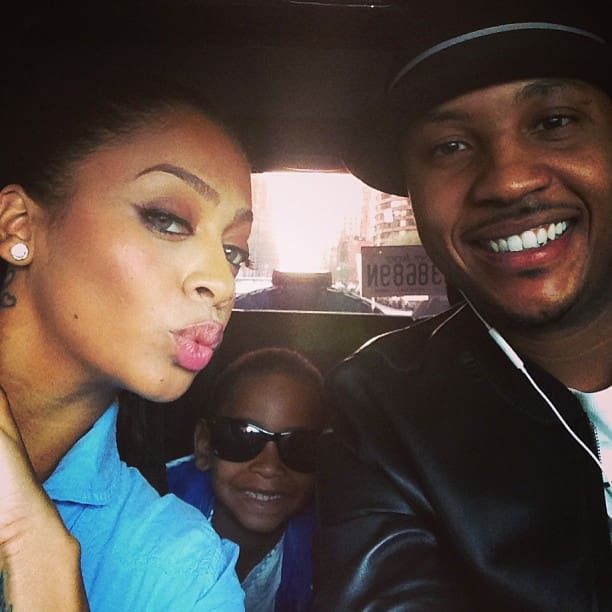 Just a week after paparazzi captured photos of Carmelo Anthony sunbathing on the deck of a yacht with another woman in the South of France, his wife La La Anthony is reportedly pursuing legal options in the next step in their relationship.
Carmelo Anthony, 35, vehemently denied that he was having an affair, and took pains to point out that the mystery woman was with her own husband on the yacht, though he was not captured in the photos in question.
"The only reason I'm addressing this is because this is affecting my family now and you got me out here looking crazy," Carmelo told TMZ Sports. "Usually I won't address this, but I had to address this … Can't let this one slide, because this s— ain't cool no more."
The explanation notwithstanding, People magazine said the "Power" and "Beverly Hills, 90210" actress was moving forward with legal proceedings but stopped short of saying they were going to get divorced.
"As La La and Carmelo have been living apart for quite some time, La La is proceeding with legal discussions as the next step in their relationship," a source told both People and E! News. "They will remain loving and committed parents to their son."
La La Anthony celebrated her 36th birthday in late June with her son, Ciara and Kim Kardashian in Calabasas, California. And Carmelo Anthony posted this loving tribute to his wife while away on the business trip in the South of France.
The couple, who are currently co-parenting while living apart, have been married since 2010 and have a 12-year-old son, Kiyan.
Carmelo and La La Anthony had separated in April 2017 after numerous reports the NBA star had an affair with 24-year-old Mia Angel Burks that produced a love child. But they reconciled in late 2018, People mag noted.