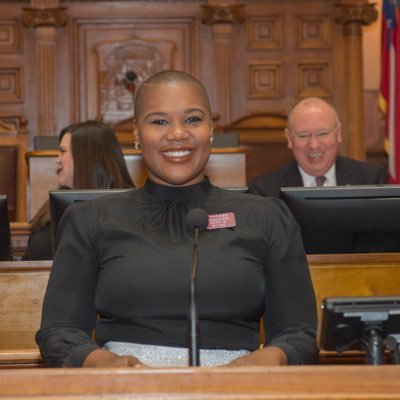 A Black Georgia lawmaker accused a White man of telling her to "go back" where she came from while she was in a grocery store checkout line in suburban Atlanta.
Rep. Eric Thomas, who is Black, said she was in the check out line in a Publix in the town of Mableton in Cobb County, Ga. She said in a teary Facebook Live video that she was with her daughter and admitted that she had 15 items in a lane that requires 10 items or less. But she said she's nine months pregnant and had trouble staying on her feet for long.
Thomas claims a white man, now identified as Eric Sparkes, objected to Thomas being in the quick checkout lane and berated her viciously, calling her the "b-word" and telling her to "go back where you came from." 
After the verbal altercation, Thomas went live on Facebook, according to WSB-TV Atlanta and USA Today, explaining.
"I decided to go live because I'm very upset because people are getting really out of control with this, with this white privilege stuff. I'm at the grocery and I'm in … the aisle that says '10 Items or less.' Yes, I have 15 items, but I'm nine months pregnant and I can't stand up for long. And this white man comes up to me and says, 'You lazy sonofab**ch… You need to go back where you came from.'"
While Thomas was being interviewed at the Publix grocery the next day, the man in question returned to confront Thomas live on WSB-TV and deny that he told her to "go back" where she came from.
https://twitter.com/itsericathomas/status/1152732976603680769
"I'm a liar about what?" Thomas asked Sparkes.
"Everything that happened," Sparkes said. "Me telling you to 'Go back where you came from. Did I say that? Is it on video?"
"Are you serious? What did you say to me then," Thomas said, according to WSB-TV.
"I called you a lazy (expletive)," Sparkes said to Thomas. "That's the worst thing I said."
"Yeah, that makes you look better to say that," Thomas said.
Even though Sparkes approached Thomas the next day in the Publix parking lot, incredulously he threatened to call the police on Thomas if she didn't "back off."
We were getting ready to interview Rep. @itsericathomas outside the @Publix where she says a man called her the B word and told her to "go back where you came from". Well… that man…was already here at the Publix because he wanted to speak to management. She confronted him. pic.twitter.com/b3J06g0Yh0

— Christian Jennings (@CJenningsWSB) July 20, 2019
In a separate interview after the showdown, Sparkes said he is a lifelong Democrat and of Cuban nationality and would never use that term on anyone. He accuses Sparkes of lying for political purposes to bring more heat on the occupant in the White House that has public uttered the phrase "go back" to four minority congresswomen.
"This woman is playing the victim for political purposes because she is a state legislator," Sparkes said. "I'm a Democrat and will vote Democrat for the rest of my life, so call me whatever you want to believe. For her political purposes, make it black, white, brown, whatever. It is untrue," Sparkes said live to WSB-TV.
Police are investigating.