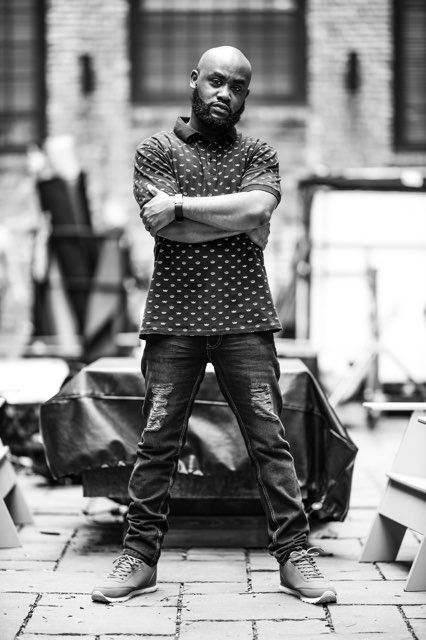 Hungry and prepared are two words which best describe multihyphenate, Tray Chaney. Currently, the actor and voice-over artist appearing on Bounce TV's hit drama, "Saints & Sinners," is also a hip-hop artist, entrepreneur, and author. The Washington D.C. native who resides in Atlanta is unafraid to grind while seeking opportunities at all levels.
Chaney's first-ever audition landed him the role of Poot on HBO's "The Wire," the seminal series that remains a favorite for many.
"Fast forward now to 'Saints & Sinners.'  A lot of the actors that I work[ed] with on there … are fans of 'The Wire,'" Chaney shared with rolling out. "After 'The Wire,' I built a whole 'notha buzz as the guy that was on 'The Wire,' who has his own brand now. I went to L.A., New York, Atlanta, Florida – anywhere I could go, to sell my own merchandise. If you don't get out there and promote yourself … ain't nobody gonna do it."
Inspired by Big Daddy Kane, who he refers to as "a brother and a mentor," Chaney has toured with Kane, Rakim, Slick Rick, Snoop Dogg, and other hip-hop legends.
His debut on "Saints & Sinners" came at the end of season one, as the illegitimate son of Clifton Powell [Rex Fisher] and Vanessa Bell Calloway's [Lady Ella].
"I like to describe Kendrick as a broken character. He wants his family in his life, the family that he's never known because he was sort of abandoned as a kid," he explained.
"Every time he thinks that something is gonna' go right, it takes a turn left, and it goes wrong. He still has to adjust to his mom being the mayor and his father being Rex Fisher. My character has been through so much each season. He was locked up, he was stabbed, he was shot, and on top of all of that, he was buried alive by his grandmother [Donna Biscoe]. This season [there are] going to be a lot of shocking moments with Kendrick."
Some of his fellow cast members say season four of "Saints & Sinners" is the best thus far and Chaney agrees. "I'm not just being biased because I'm on the show. But from watching the dailies and being on set, and even the way it's being shot, all the actors and actresses are really stepping up to the plate. Everybody is going to be excited about this year. It's so much stuff that y'all are not going to expect. Not only to me but to a lot of people that's been around on the show for a while. It's gonna have people talking."
Known for his positive platform that celebrates, fatherhood, family and women, the married father of two is grateful for his success. "I'm excited to be on the set with some of the best in the business. I'm thankful to Bounce TV and Swirl Films, to have such a big role," he says.
"Saints & Sinners" airs Sundays, at 9 p.m. EST on Bounce TV.