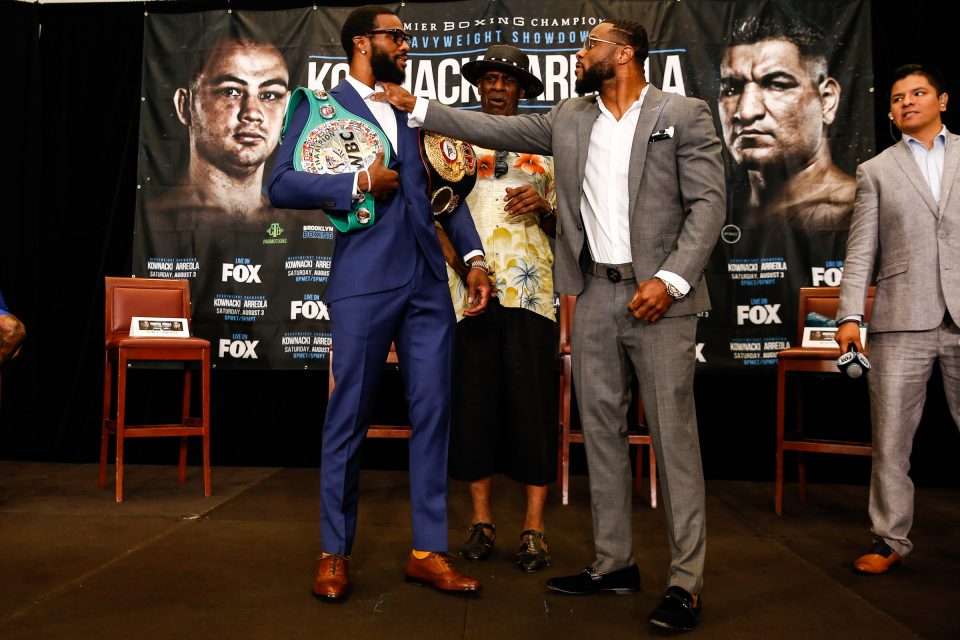 Things got personal when former light heavyweight world champion Jean Pascal, -with the help of a prop – exposed his opponent's history of domestic violence. Unbeaten interim WBA Light Heavyweight Champion "Sir" Marcus Browne, was called out publicly when Pascal donned a wig and dared him to hit him. 
"If I wear this and look like a woman, are you going to promise the world that you will knock me out?" Pascal asked Browne. "Marcus has been saying that he's going to go in there and try to knock me out, but I'm no amateur," Pascal said.  "I know what his game plan is going to be. He's going to run around the ring and try to hold. We all know he's the best at running like a chicken."
The 28-year-old boxer was arrested for a fourth time in June and charged with criminal contempt for allegedly violating an order of protection his ex-girlfriend and their daughter have in effect against him.
The 2012 Olympian allegedly choked his ex-girlfriend during an incident at her Staten Island, New York home on the morning of Sept. 27 for his third arrest.
Browne was arrested for the second time in April 2018, for bashing the door to his girlfriend's Staten Island apartment.
Browne first arrest in the string of serious allegations occurred on Dec. 28, 2017, following accusations that he fought with the woman, allegedly grabbing her by the arm and neck, and striking her face with his index finger. He was charged with attempted assault and harassment.
The upcoming bout in the ring is the co-main event on the FOX PBC Fight Night on Saturday, August 3, 2019, at Barclays Center in Brooklyn, New York.
In the main event, undefeated Polish star and Brooklyn-native Adam Kownacki battles veteran former title challenger Chris "The Nightmare" Arreola, who says he will retire if he loses.
WBC Heavyweight Champion Deontay Wilder will join former undisputed, three-time heavyweight champion Lennox Lewis and blow-by-blow announcer Kenny Albert to call the main event.
In the opening televised bout, Brooklyn native Curtis Stevens makes his 154-pound weight debut against Wale Omotoso in a 10-round fight.
Click the link after the jump to see Jean Pascal put the wig on!