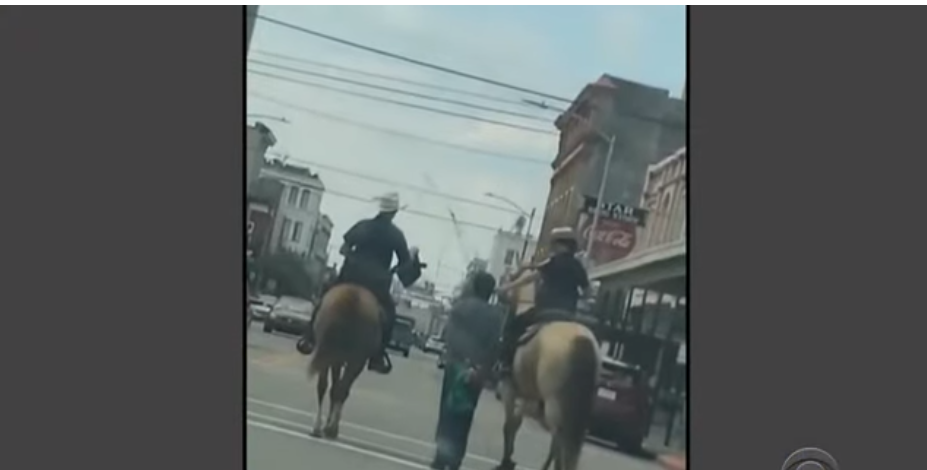 A Texas police chief is apologizing profusely after a photo was released showing officers leading a Black suspect by a leash down the middle of the city's downtown streets after he was arrested, CBS News reports.
In a statement, Galveston Police Chief Vernon Hale offered a mea culpa to the man, Donald Neely, 43, who was photographed being led like an animal. He was apprehended on a single misdemeanor criminal trespassing charge.
"First and foremost I must apologize to Mister Neely for this unnecessary embarrassment," he said in the statement. "Although this is a trained technique and best practice in some scenarios, I believe our officers showed poor judgment in this instance and could have waited for a transport unit at the location of the arrest."
Galveston Police officers lead black man on a leash (Photo: YouTube/CBS Evening News)
Galveston is a beach community about an hour southeast of Houston.
Houston's NAACP chapter president James Douglas expressed outrage at the photo.
"This is 2019 and not 1819," he said in an email that was obtained by the Houston Chronicle. "I am happy to know that Chief Vernon [Hale] issued an apology and indicated that the act showed poor judgment, but it also shows poor training. Even though the chief indicated that the technique would be discontinued he failed to address the lack of respect demonstrated by the officers in the episode."
Leon Phillips, president of the Galveston Coalition for Justice, called for the immediate cessation of this barbaric arrest technique and also demanded that the officers be disciplined.
"With the climate in the country today, I would hate to see, six months or three years down the road, what kind of judgment these same officers would make in a worse scenario," Phillips said.
Phillips openly wondered why the officers didn't wait on the scene instead of parading him through the streets like an animal.
"Stay there with him instead of humiliating him," he said. "And now you've humiliated the whole city of Galveston because everybody who sees it is going to have an opinion," Phillips said. "All I know is that these are two white police officers on horseback with a black man; walking him down the street with a rope tied to the handcuffs, and [that] doesn't make sense, period," he said. "And I do understand this — if it was a white man, I guarantee it wouldn't have happened."