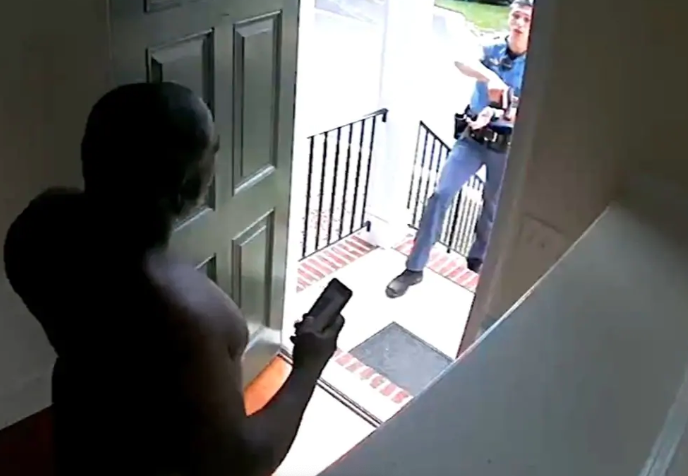 A Black man was harassed by police while sleeping in his own home. The incident occurred in Raleigh, North Carolina, after police responded to a false burglar alarm. Footage from Oyeneyin's surveillance camera was released this past weekend.
In the video footage released this past weekend, Kazeem Oyeneyin, 31, was asleep when police began knocking on his door. They responded to an alarm that was triggered accidentally by a friend who stayed with Oyeneyin overnight. After he turned off the alarm, police arrived 20 minutes later.
Oyeneyin walked to his front door while only wearing underwear. An officer holding a gun began pushing Oyeneyin's door and yelled, "Police. If you're inside, make yourself known. Come on out with your hands up." The cop yelled at Oyeneyin to get on his knees and to "turn around and face away from me."
Oyeneyin complied with the officer's commands. Then several other White cops arrived and reportedly entered his home without a search warrant. He attempted to tell the sergeant that he owned the home, but the sergeant ordered Oyeneyin to sit down. When Oyeneyin tried to tell him he had done nothing wrong, the sergeant told two officers to take Oyeneyin to a police car.
Oyeneyin was handcuffed and walked outside while still only wearing his boxers. He attempted to yell to his neighbors with the hopes that they would tell the cops that he owned the home, but his neighbors did not come to his defense.
Police searched Oyenyin's home as he sat in the back of the squad car while handcuffed. He was only released after a second sergeant who he knew arrived at the scene and told the other officers that he lived at the home. That sergeant had Oyeneyin's handcuffs removed and walked him back to his house.
In an interview with WTVD, Oyeneyin said that he feared for his life and thought the officers would kill him.
Police have yet to apologize to Oyeneyin but will investigate the incident. Oyeneyin said he may decide to take legal action against the police department.
View the security camera footage after the jump.