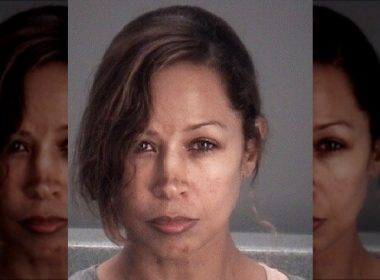 Stacey Dash appears to be floundering professionally, financially and personally.
At least, that's what the Clueless actress conveyed to the judge and police the past two days. Dash, 52, told the judge that she is indigent and cannot afford a private attorney to defend her in her misdemeanor domestic battery case.
Dash was arrested on Monday, Sept. 29, after the star of Mo' Money and "Single Ladies" pushed, slapped and scratched her husband, Jeffrey Marty, inside her apartment in Land O' Lakes in Pasco County, Florida, about 25 miles north of Tampa, NBC News reports.
As Dash was perp-walked to her car, she told the officer that she was an actress and starred in Clueless but was taking a break after she "did politics for a while," according to the bodycam video obtained by The Blast.
Dash was asked to be represented by a public defender, NBC News stated. But the judge will require her to produce financial records to confirm that she cannot afford to retain legal counsel.
Dash, the cousin of former Jay-Z partner Damon "Dame" Dash at Roc-A-Fella Records, also told officers that she was actually fending off her husband who was attacking her and choking her.
Furthermore, Dash told police that her husband got his children to lie for him and said she assaulted him.
Stay tuned for further details that are sure to come in this case.