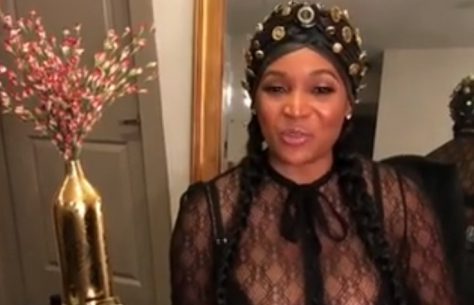 "Real Housewives of Atlanta" OG Kandi Burruss has never had a problem securing the bag. But while she's busily stacking her coins, Burruss has been leveraging her cachet and influence behind the scenes in an effort to finally get fellow star Marlo Hampton a bigger bag as well.
Burruss wants Hampton to hoist her own Georgia "peach," meaning she is pushing for Hampton to become a full-time cast member on "RHOA."
The "Real Housewives" franchise producer Andy Cohen discussed Hampton on Burruss' "Speak On It" podcast where he was the guest.
Cohen then explained why Burruss' behind-the-scenes efforts to get Hampton to hold the Georgia state fruit has been in vain.
"I think it's preliminary to say that she is never getting a peach," an uncomfortable Cohen said while fidgeting in his chair.
"I think the short answer on that is we don't have a consensus among the group. The thing is … she is all over the show. I think people get hung up in semantics. 'The Housewives' is not indentured servitude. Trust and believe people are being taken care of, in one way or another."
Check out the entire "Speak On It" podcast below. Burruss asks about Hampton at around the 16-minute mark.