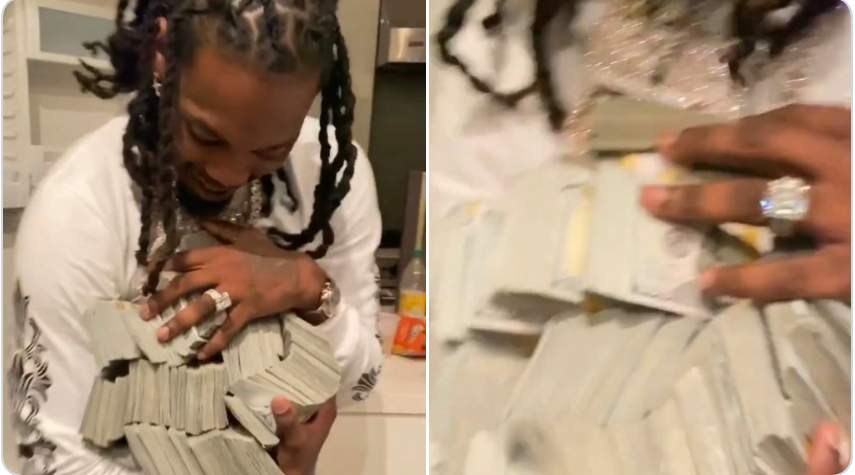 What do you give a man who seemingly has every adult toy and luxury a man could possibly want?
Stacks of cash to get even more toys, of course. Duh!
That's exactly what happened as rap siren Cardi B, 27, gave her husband Offset, 28, a half-million dollars in cash for his birthday on Saturday, Dec. 14.
The reason? She declared that she couldn't think of what to give Offset since, according to her, he already has every car, every shoe, every piece of jewelry and all the houses that he could possibly want.
"You got every card, you got every jewelry … you got everything!" Cardi says in Dec. 14 Instagram footage. "What else can I give somebody that got everything? A fridge!"
After Cardi B finished her monologue, a member of the couple's entourage opened the built-in fridge that showed the top shelf stocked with stacks and stacks that equalled a half-million dollars in cash.
Offset's braids were blown back by the grandiose gesture from his wife and fellow breadwinner Cardi B.
But since this grand gesture came so close to Christmas, Cardi warned Offset not to expect anything next week.
"Don't expect no Christmas gift from me," she said while adding her customary profanities. "Only for the kids!"
Offset has three children from previous relationships, and he shares daughter Kulture with Cardi.
It has been a banner December for the Cardi-Offset family. Cardi became the first female rapper to ever grace the cover of Vogue magazine. She posed with her 17-month-old daughter.
Check out the responses from Black Twitter for the jaw-dropping birthday gift.
https://twitter.com/savagesaff/status/1205998316745564161?ref_src=twsrc%5Etfw%7Ctwcamp%5Etweetembed%7Ctwterm%5E1205998316745564161&ref_url=https%3A%2F%2Fbossip.com%2F1820202%2Fcardi-gifts-offset-five-hundred-thousand-dollars%2F
https://twitter.com/jiwor_reigns/status/1205868958416547840?ref_src=twsrc%5Etfw%7Ctwcamp%5Etweetembed%7Ctwterm%5E1205868958416547840&ref_url=https%3A%2F%2Fbossip.com%2F1820202%2Fcardi-gifts-offset-five-hundred-thousand-dollars%2F
It's Offset's birthday and Cardi said "you already have everything, idk what to get" so she got him $500,000 and put it in the fridge.

Dear Lord please, I beg, release me from the cold shackles of poverty.

— D Piddy (@Blackkout__) December 15, 2019