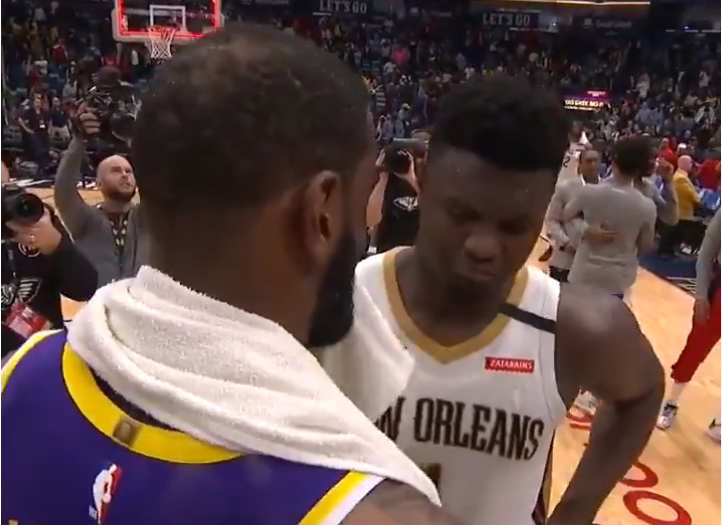 LeBron James continues to rankle the sensibilities of old-school players and fans alike because he routinely befriends and mentors the young stars in the NBA.
James did so several years ago when he confirmed the greatness of a rising star Paul "PG" George when they were battling during the playoffs as members of the Miami Heat and Indiana Pacers, respectively. He did it most memorably when he once worked out during the offseason with future Hall of Famer Kevin "KD" Durant.
And King James did it again on Sunday, March 1, when his Lakers met up with 19-year-old sensation Zion Williamson and his New Orleans Pelicans in southern Louisiana.
Both the elder statesmen and the teen phenom lived up to their prime-time star billing. Williamson finished with 35 points and 7 rebounds, while James posted a triple-double of 34 points, 13 assists and 12 rebounds as his Lakers came away with a 122-114 victory.
James created additional headlines immediately after the game when he hugged Zion and then whispered some nuggets of knowledge after vanquishing his foe — something that makes old-school players and former stars bristle. The previous generation was notorious for hating their rivals and never publicly befriending their opponents.
LeBron and Zion postgame.

Much respect ✊ pic.twitter.com/dgR55K82bD

— Bleacher Report (@BleacherReport) March 2, 2020
Right after that private moment, LBJ heaped effusive praise on Williamson and some of the other young bucks, as they are called, for providing a window into the future of the NBA with their great play.
"The league is in great hands with a guy like Zion, Ja Morant, Luka Doncic, Trae Young, Jayson Tatum and the list goes on and on."@KingJames loves seeing the next generation thrive 🤜🤛 pic.twitter.com/gpFZK78bPU

— SportsCenter (@SportsCenter) March 2, 2020
Some felt some kind of way about James making friends with enemies, but he had a salty response for them all.
Flip the page to listen to James tell his critics what they can do with their opinions.