NBA icon Elgin Baylor dies at 86 (video)
Elgin Baylor, one of the most prolific and creative scorers the NBA has ever seen, reportedly has died from natural causes in Los Angeles. He was 86.
Baylor was one of the NBA's first aerially inclined superstars, who was able to put the ball in the hoop in spectacular ways that astounded his contemporaries in the pre-Julius "Dr. J." Erving era. But Baylor also was fundamentally sound, which is why he once held the record for scoring in a playoff game with 61 points until Michael Jordan eclipsed it with 63 in 1986.
Elgin Gay Baylor was born in segregated Washington, D.C., in 1934 and named after his father's favorite watch brand. He quickly became known as a child prodigy and the most outstanding talent in the region, according to fellow Hall of Famer Dave Bing, who spoke to ESPN.
During his 14-year career — spent entirely with the Los Angeles Lakers — Baylor ranked first with the franchise in total rebounds, fourth in points, sixth in assists and undoubtedly formed one of the greatest duos in the sport's history alongside Jerry West.
Baylor and West led a Lakers squad that made the NBA Finals eight times in a 12-year span. But Baylor retired before the season when the team finally won it all with the acquisition of another legend, Wilt Chamberlain, in 1972.
However, Baylor's career is etched in gold — purple and gold, to be exact — as he was selected No. 1 in the draft by the then-Minneapolis Lakers in 1958. From there, Baylor won Rookie of the Year and closed out his illustrious career as an 11-time All-Star who made the All-NBA First Team 10 times.
Baylor's family is happy he received his flowers while he was alive for his indelible contribution to the game. He was a no-brainer for a first-ballot induction into the Naismith Hall of Fame in 1977, and his No. 22 jersey was retired in 1983. The Lakers also erected a statue of him outside the vaunted Staples Center three years ago.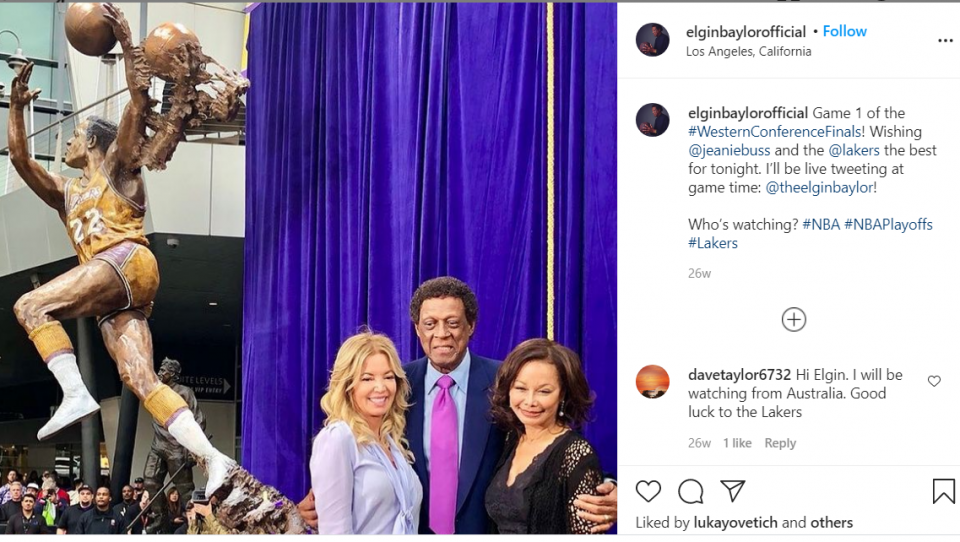 After his playing days, Baylor coached the then-New Orleans Jazz for five years beginning in 1974 before taking his skills to the front office as the general manager for the LA Clippers for 22 years.
Flip the page to view the highlights of Baylor's remarkable career as presented by ESPN.