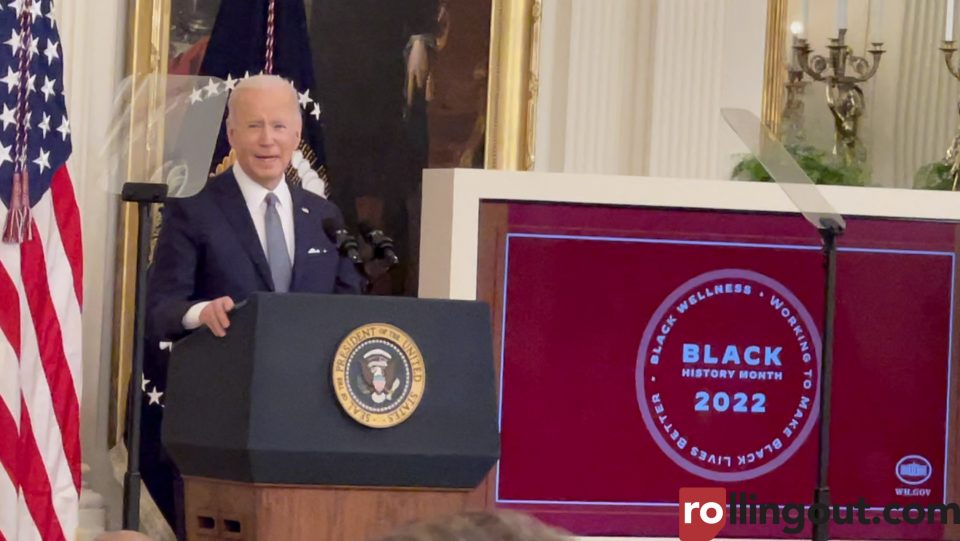 In his only public appearance with the press prior to his State of the Union address, which will largely focus on Russia's attack on Ukraine, on March 1, President Joe Biden continued to focus on the education of Black students and historically Black colleges and universities.
The topic of HBCUs consistently came up at the White House's first in-person Black History Month celebration during Biden's term. During his speech at the event, the president kept shouting-out Delaware State, the HBCU in his home state. The guest speaker for the event, who went on after Vice President Kamala Harris and before Biden, was an 18-year-old Washington, D.C., native who plans on attending Delaware State.
Many other HBCUs were represented at the event and received shout-outs as well, like Virginia State University, Howard University and Morehouse College.
"It's wonderful to be at the White House," VSU President Makola Abdullah told rolling out. "It's wonderful to see [Howard graduate and] Vice President Kamala Harris, see some of my HBCU friends and hear some wonderful remarks from our president, so it was a wonderful event."
HBCUs, in general, have received increased attention on a mainstream level since the Black Lives Matter movement in the summer of 2020. This attention took a step forward in the sports world when high-profile athletes like Deion Sanders chose to coach at an HBCU to "level the playing field," as "Coach Prime" has alluded topreviously.
The attention turned into action has led to multiple HBCUs receiving bomb threats. At least 16 HBCUs received the threats on the first day of Black History Month this year.
"I want all of you to know, we're ready to closely investigate the cowardly un-American bomb threats against HBCUs," Biden said during his speech.
Continue reading on the next page.