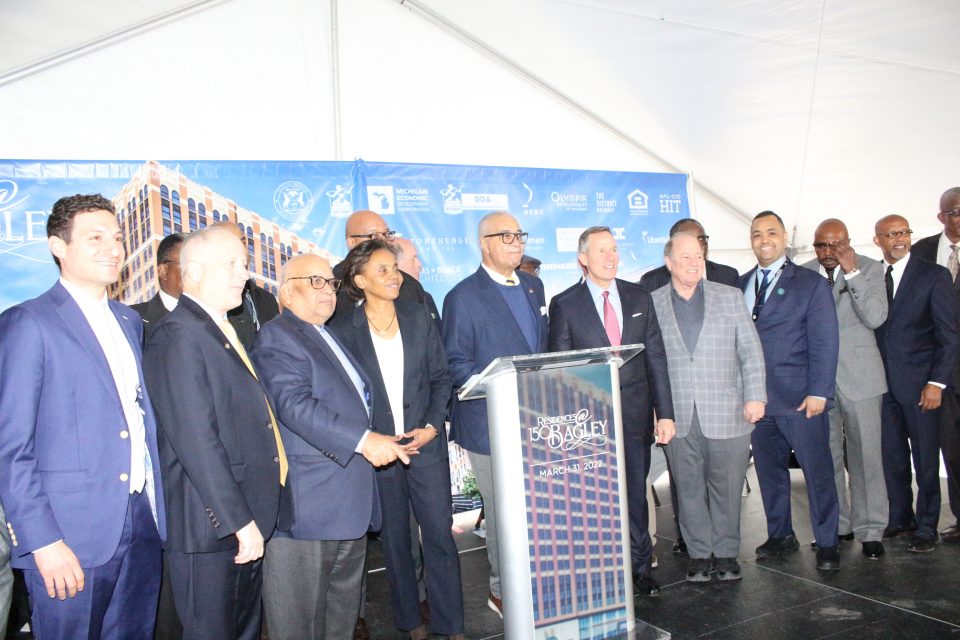 The Bagley Development Group (BDG) has kicked off a $75M renovation project located in downtown Detroit that's slated to bring 148 luxury one and two bedroom apartments to the city. BDG is a Black-led development team that is comprised of managing partner Emmett Moten, Scott Allen, Larry Brinker Sr., Tom Goss, Richard Hosey, Roy Roberts and Jim Thrower, who combined have decades of development experience in Detroit.
"On behalf of the Bagley Development Group partners Scott Allen, Larry Brinker, Sr., Tom Goss, Richard Hosey, Roy Roberts, Jim Thrower and me, we are honored to develop Residences@150 Bagley in such a vibrant community," said Emmett Moten, managing partner. "Residences@150 Bagley represents the perfect model for urban development, with the public and private sectors working collectively to benefit the community. The Residences @ 150 Bagley, will become a flagship, residential development in The District Detroit, and will honor the past while creating the next step in downtown's exciting future," Moten went on to say.
The group recently announced the redevelopment project to a standing room only crowd during their groundbreaking held on March 31, 2022. The 94 year old, 18-story United Artists Theater building will be transformed into an upscale 148-unit residential building named The Residences @150 Bagley, with 20% designated as affordable. The building will also have about 10,000 square feet of ground-floor retail and restaurant space and is scheduled to open in late 2023.
Many people attended the celebratory groundbreaking press conference, which was held in a tent located outside 150 Bagley. Real Estate and finance industry people were in attendance, as well as the U.S. Department of Housing and Urban Development, which is backing the project's $43M, 40-year mortgage. In addition to the HUD-backed loan, the project also received $8.5 million in loans from the Downtown Development Authority, a $7 million loan from the Michigan Strategic Fund and $3 million in federal Community Development Block Grant funds.
Detroit's Mayor, city officials, Illitch Holdings representatives and more were also in attendance. Chris Ilitch, Illitch Holdings President and CEO also spoke at the event. "Today, we celebrate continued commitment to preserving Detroit's history and creating new opportunity," Ilitch told the crowd. "An African American-led development team will bring hundreds of jobs, new construction jobs and additional affordable housing units and historic redevelopment to our community."
The to-be-rehabbed building has been owned by the Ilitch organization since 1997. The Ilitches bought it from former business mogul Don Barden, who briefly owned the property as the site was once thought to be a possible casino location.
The project was originally announced in 2017, along with five other developments in the District Detroit. The start of the redevelopment work was delayed several years by financing challenges as well as the COVID-19 pandemic, officials said.