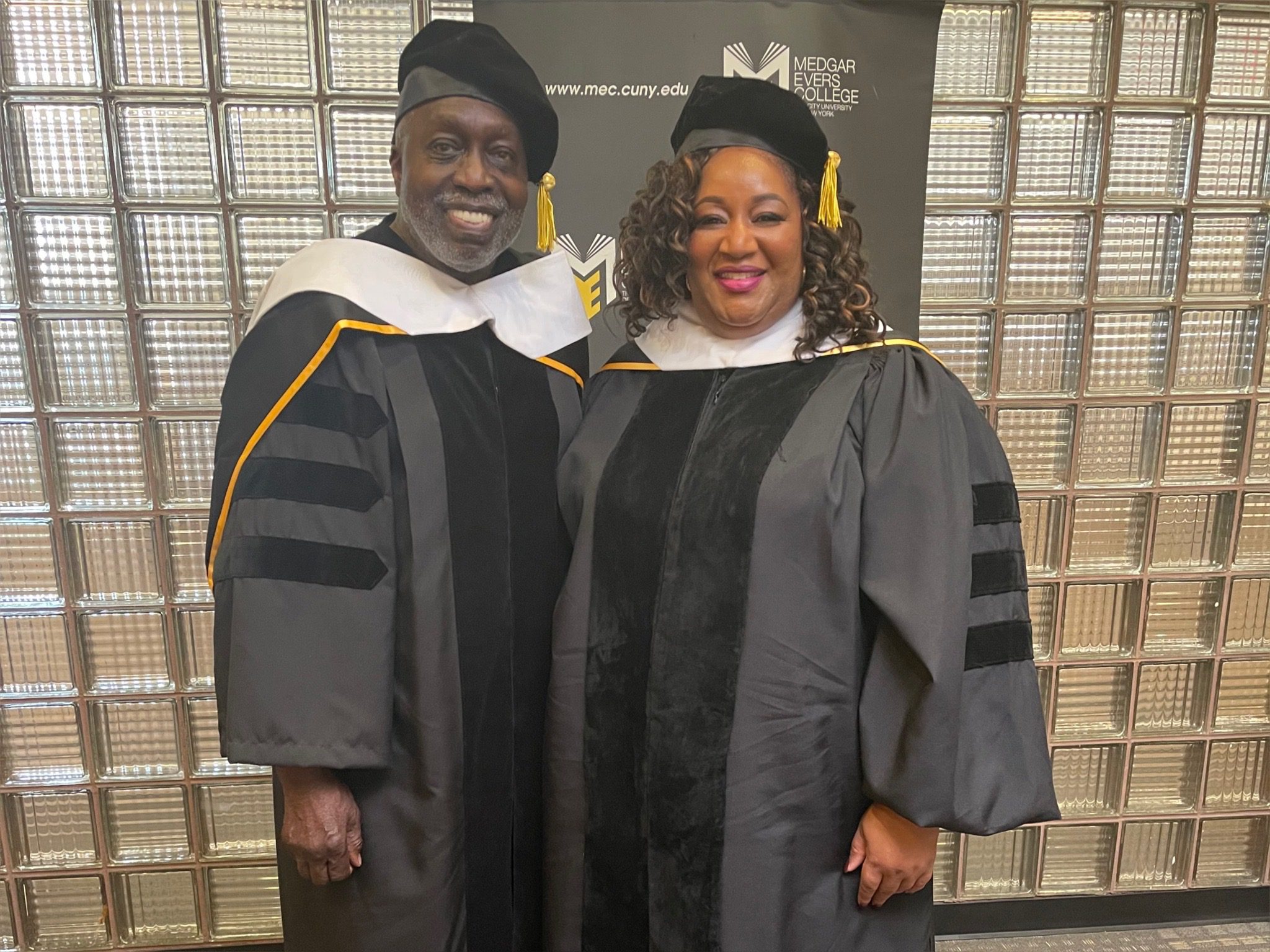 Medgar Evers College is pleased to announce the recipients of this year's honorary doctorate degrees during its 2022 Commencement Ceremony. Honorary recipients include American pro-basketball player, Hall-of-Famer, and education advocate, Earl "The Pearl" Monroe; and managing director, head of Morgan Stanley's Global Sports & Entertainment Division and Segment Sales & Engagement Group, Sandra L. Richards.
Richards and Monroe were recognized for their work on The Earl Monroe New Renaissance Basketball School in the Bronx, New York, and their new financial education venture. The two were elated to share this recognition.
"Our 2022 honorary degree recipients have outstanding achievements in their respective fields and a dedication to public service," said Dr. Patricia Ramsey, president of Medgar Evers College. "As a College with social justice in its DNA, it is important to recognize those whose life's work reflects the College's mission of educating for social justice and the uplift of our global community."
Earl Monroe will receive an honorary Doctor of Humane Letters. Monroe joined the NBA in 1967, following a successful career as a basketball player for Winston-Salem State University, an HBCU in North Carolina. Monroe played college basketball when the country was amid the civil rights era, and those years shaped his commitment to social justice. After Monroe graduated from Winston-Salem State, he passed the National Teacher's Exam.
In his 13-year NBA career, Monroe was a key leader on the Baltimore Bullets and the New York Knicks. Former NBA Player and U.S. Senator Bill Bradley described Monroe as the "ultimate playground player." A four-time NBA All-Star, Monroe retired in 1980. In 1990, he was enshrined in the Naismith Memorial Basketball Hall of Fame. Monroe was elected to the NBA 75th Anniversary Team in 2021, and in that same year, the Earl Monroe New Renaissance Basketball School, a co-ed charter, tuition-free high school, was founded in the Bronx.
Sandra L. Richards will receive an honorary Doctor of Humane Letters. Richards is a managing director at Morgan Stanley, where she heads Morgan Stanley Wealth Management's Global Sports & Entertainment Division and Segment Sales & Engagement Group. Richards plays a significant role in the growth of the global unit and strategic leadership for over 200 Financial Advisors with the designation as a Global Sports and Entertainment Director in the firm's wealth management business. Before joining Morgan Stanley, Richards was the development officer and director of corporate and foundation relations at the Jackie Robinson Foundation, a national non-profit organization with strong ties to professional sports teams and owners. The author of the children's book Rice and Rocks, Richards, frequently visits schools to encourage literacy and celebrate diversity and culture. She has been a visiting author at Medgar Evers College, distributing her book to School of Education students to use in their fieldwork experience.