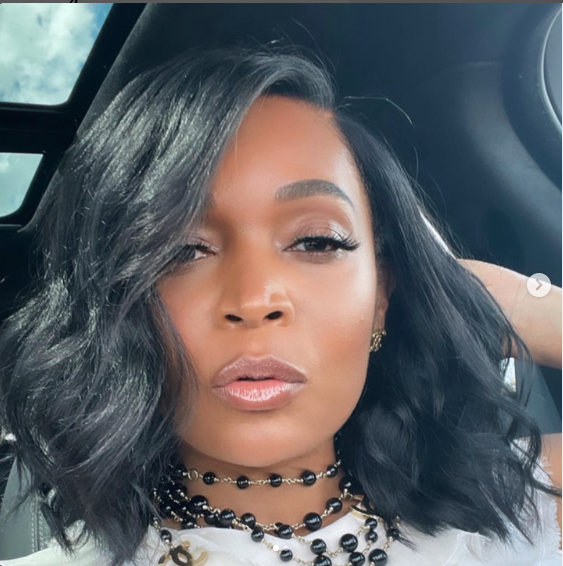 A war has erupted on the set of "The Real Housewives of Atlanta" as Marlo Hampton delved into Kandi Burruss allegedly sordid sexual history, to which Burruss clapped back online.
During the latest episode of the Bravo reality show, Hampton used vulgarities to describe Burruss' alleged contemptible levels of sexual promiscuity back in the day, saying she slept with a multiplicity of men but got nothing in return.
Hampton made the explicit remarks about Burruss to cast member Shereé Whitfield after "RHOA" newcomer Sanya Richards-Ross only invited Burruss to one of her functions. 
During a cooking party hosted by Richards-Ross, Hampton, 46, let loose on Burruss in front of Whitfield, 52. 
"You don't feel that Sanya's, like, up their a–?
Sanya retorted, 'B—-, Kandi is that b—, Kandi got the followers."
"Sanya, just give me, like, 'B—-, I'm trying to promote [my blog] MommiNation, I ain't been on the track for 15 years, I got 20 godd–n people living in this godd–n house.'"
Hampton accused Richards-Ross of clout chasing for trying to get close to Burruss. 
"First of all, Kandi was a damn h–. She f–ked everybody for free…That b—h was a h– and that p—y wasn't good. And that's why you always got to date underneath your tax bracket, OK?"
Burruss, of course, soon got wind of Hampton's scathing attack on her and responded on social media.
If someone shows you who they are believe them … because they talking about me more than they talking about their own stories and businesses #RHOA

— Kandi Burruss (@Kandi) June 13, 2022
Someone is worried about my anatomy and sexual history more than my gynecologist this season #RHOA

— Kandi Burruss (@Kandi) June 13, 2022
Keep watching this season because the lady with the heavy tongue keeps my name in her mouth! #RHOA

— Kandi Burruss (@Kandi) June 13, 2022
Some fans conveyed they were repulsed by Hampton for getting explicit and vulgar about Burruss' sex life.
Marlo…you're a felon.. sheree you're crying over … a felon. Y'all have no room to talk about none of them. #RHOA

— [Vern-ah-lee-sha] (@its_leshaV) June 13, 2022
This scene with Marlo and Sheree at the end of the episode was disgusting on BOTH Marlo and Sheree's part #RHOA

— Will Smith Slapped Me (@AshleyShyMiller) June 13, 2022