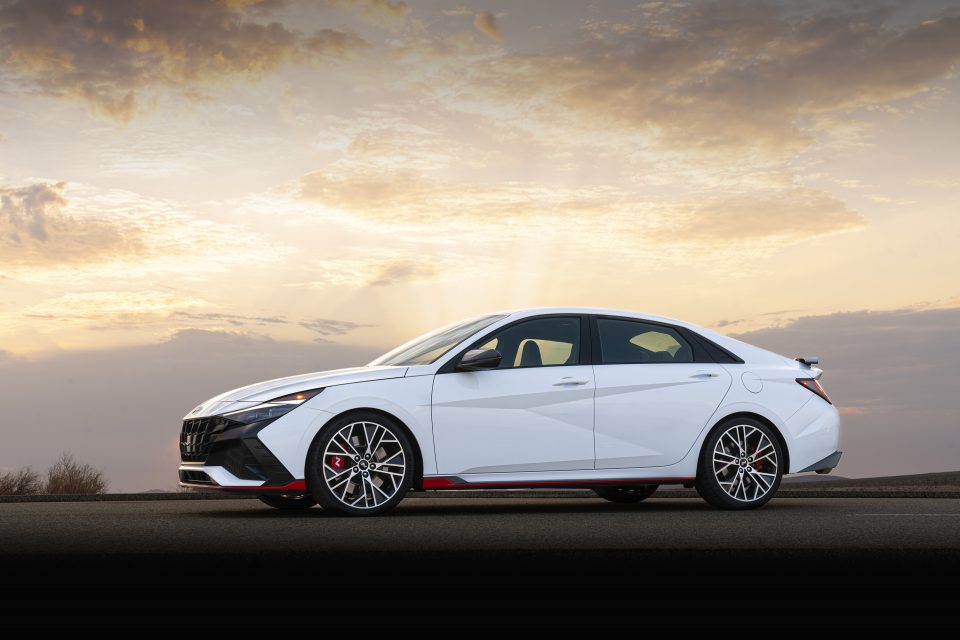 A few years ago, Hyundai Motors America introduced the N brand which was their version of high-performance vehicle developed to "make the driver's heart beat faster whenever they're behind the wheel." The brand has always offered a wide range of Elantra models, including the standard Elantra and Elantra Hybrid.  In 2022, Hyundai added the high-performance 2022 Elantra N to their lineup.
With the new Elantra N, Hyundai gives the driver exhilarating performance in a practical four-door car. When you combine the reliability of of the manufacturer's standard models and add exciting sports features, the result is a high-performance race car like vehicle.
During my test drive of these hot wheels, I could not help but notice the sporty design elements of the Elantra N.  The wide black front grille, the sharp-lined curves running along the side and well defined rear end, make this car stand out. Adding the red accent outline along the base is appealing, making the Elantra N a real eye-catcher on the streets. Its sports-like appearance commands attention. Once behind the wheel the driving experience is enhanced for N model performance with a sport-tuned suspension, steering and revised powertrain mounts.
The 2022 Elantra N is a souped-up mid-size car that has a 2.0L turbocharged direct-injected  276 horsepower engine under the hood and a boost feature called the N Grin shift. By engaging the N Grin shift, the Elantra N engine power boasts up to a 286-hp rating. The car comes with an eight-speed automatic but is also available as a six-speed manual.
The interior has a sporty racecar feel. From the cockpit-like seats, metal accented pedals, and the N badges throughout the car, the interior provides a powerful sense of ambiance. Other stand-out features include cutting-edge infotainment and connectivity technological features. The dashboard boasts a large 10.3-inch digital gauge which also includes a 10.3-inch infotainment display. Standard features include Apple CarPlay, Android Auto, in-dash navigation, and a Wi-Fi hotspot.
The 2022 Hyundai Elantra N is a super hot high-performance car designed for drivers looking for something practical but with the capability to meet any consumer's need for speed. Manufacturer's Suggested Pricing for the sporty Elantra N starts around $32,150