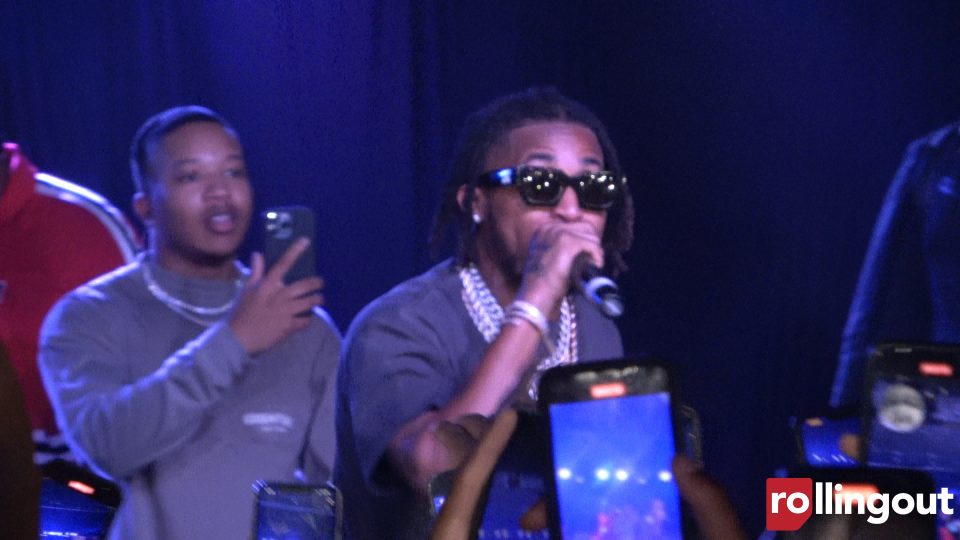 ATLANTA — There's no more public speculation about it, DDG is a legitimate rapper.
The 24-year-old entered the music scene with a strong fanbase due to his immense popularity on YouTube. After going viral with a reaction video in 2015, he's been on a continual rise in Internet popularity and has driven millions of subscribers to multiple YouTube channels to see him perform. The last time rolling out spoke with DDG in 2019, he already had features with Famous Dex, Blac Youngsta and YBN Nahmir, but things were a bit different for him coming to Atlanta this time around.
"I've been overseas where people didn't know me," he told the Center Stage crowd on July 15, "so it feels so good to be with y'all tonight, man."
DDG was fresh off performing in a couple of festivals around Europe, including Rolling Loud Portgual, which his DJ, DJ Grand, said has been their biggest show yet.
The young musician looks more confident and comfortable on stage than he ever has. He smiles at the crowd during songs and performances, knowing what tracks they love to hear and what lyrics are their favorite lines. The one song that changed it all for him was the "Moonwalking in Calabasas" remix featuring Blueface. It was a song he jokingly introduced as one that was only for his "day ones" at his Atlanta show before he and the artist Baby Rich, his older brother "DuB," and rapper TyTheGuy, threw beach balls into the crowd to celebrate his platinum record.
After an hour of greeting his fans at a post-concert meet-and-greet, DDG stopped by rolling out to share his experience of being on the rise.
How has life changed since we spoke in 2019 to now, after "Moonwalking?"
It's fun. Life is fun. It's progressive. Getting new fans, this is what it's all about.
Jack Harlow has spoken about his paranoia about being a rapper in 2022. Jim Jones and Fabolous have called it the "most dangerous job in the world." How do you deal with that mentally?
I just be chilling. For real, for real. I don't really think about any of that. I just … we all got to die someday, right? Yeah, man. I'm just having fun. Chilling, but I move right. I move smart.
Did you learn anything from what happened last month?
What happened last month?
You got arrested.
I mean, that case got dismissed. So it was nothing for me to learn.
You had a license to carry and the case was dismissed, so did you feel targeted?
Yeah, for sure, but you know, that's just what happens. This is the life we live as Black males in America. It is what it is, but when you have good lawyers you beat the case. … It is what it is.
What advice do you have for aspiring artists?
Stay consistent, have fun and be yourself.