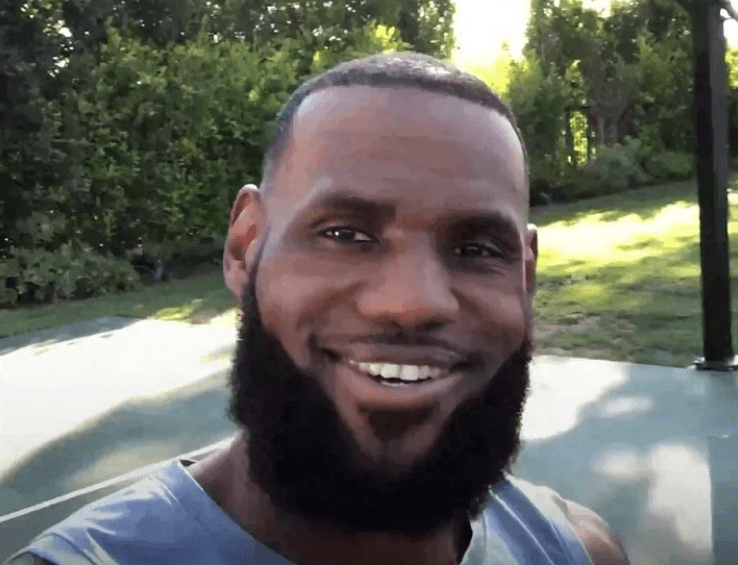 LeBron James is on the hot seat for the second time in a week after he called the Boston fans racist.
During the latest episode of HBO's "The Shop," King James was queried as to why he "hates" Beantown. James retorted bluntly, "Because they're racist as f—, that's why."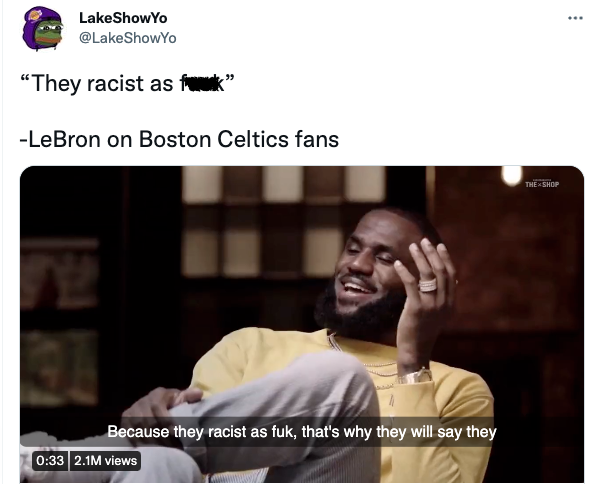 James, 37, also took some flack last week when the Los Angeles Lakers superstar wondered aloud during "The Shop" if Russian prisoner Brittney Griner would want to return to the United States. James accused the U.S. government of not doing enough to ensure the WNBA star's return home. Griner was jailed in February 2020 when a Russian police canine detected traces of hashish oil in a vape cartridge she had packed in her luggage. Griner faces up to 10 years in prison.
Regarding James' sentiments towards Celtics fans, he believes the crowd is unruly and untamed in spewing invectives at him and other NBA stars. More than 80 percent of the league is African American.
"They will say anything. And it's fine," James said. "I mean, f—, it's my life. I've been dealing with it my whole life. I don't mind … like, if I hear somebody close by, I'll check 'em real quick [and] I'll move on to the game. They gonna say whatever the f— they wanna say. They might throw something on you."
James recalled the time when a Celtics fan poured a drink on him as he made his way to the locker room. The moment took place after James and the Miami Heat defeated Boston in Game 6 of the 2012 Eastern Conference Finals.
"I mean, I got a beer thrown on me leaving a game," he said before cracking some jokes about Celtics merch."There was like a, 'F— LBJ T-shirt.' I believe they sold it at the f—– team shop."
When a Boston Celtics fan poured beer on LeBron after he put up 45 PTS & 15 REB in GM 6 of the 2012 ECF.

(Via @bronhistory) pic.twitter.com/nfzqRlIZm5

— Ballislife.com (@Ballislife) July 16, 2022
Not surprisingly, some fans charged after LeBron for his utterances, with a few even calling LeBron "racist."
"They racist as…" why don't you try speaking "proper" English?! –#LeBron https://t.co/0VztvMCxSL

— JohnBoy (@john55soz) July 17, 2022
1950: The Celtics became the 1st NBA team to draft an African American player when they selected Chuck Cooper in the 2nd round.
1966: Bill Russell became the 1st African American coach in North American professional sports when he took over the reins from Red Auerbach. #LeBron pic.twitter.com/3bgYQqzVP3

— PJM (@PJM75TWEETS) July 16, 2022
How racist is the city of Chicago?? Im curious? Black kids aint dying like that in my city…but Lebron wont talk about that…clown#boston #nba #lebron

— 2Libras🇩🇴 (@2_libras) July 16, 2022
https://twitter.com/1649CapeCod/status/1548340117030387713
"Dropping F-bombs with children in the crowd. Real classy Boston." – Klay Thompson pic.twitter.com/RLFrSmKHAZ

— Action Network (@ActionNetworkHQ) June 9, 2022
Check out the full episode below: