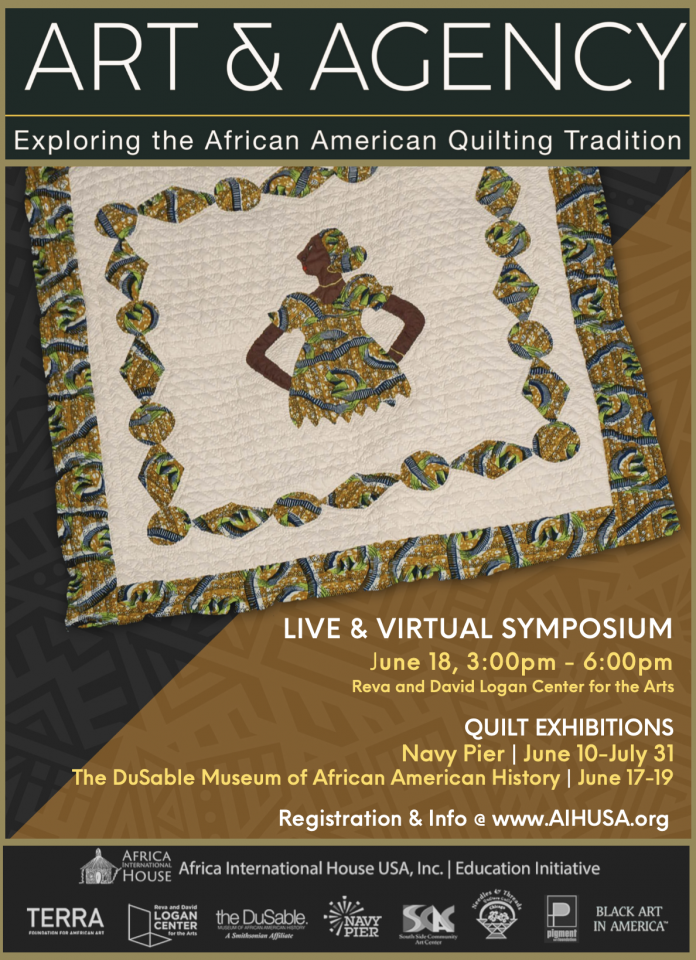 Through a grant provided by the TERRA Foundation for American Art, Africa International House USA Inc. in collaboration with the Reva and David Loga Center for the Arts at the University of Chicago, presented a symposium Juneteenth weekend titled "ART AGENCY: Exploring the African American Quilting Tradition." Multiple quilt exhibitions will be hosted by collaborating institutions, including the DuSable Museum of African American History and Navy Pier. Virtual and live symposium registration and more information are available at www.AIHUSA.org.
"The theme of liberation is celebrated during the Juneteenth weekend, which acknowledges the day when Texas slaves received word of their emancipation. The quilt symposium will explore the role of quilts in determining the freedom of US slaves," says Patrick Woodtor, co-founder of AIH. "We will also explore the transfer and evolution of quilting techniques and traditions that may have occurred during the trans-Atlantic slave experience and how, even today, agency among Black people is defined and actualized through quilts and quilt making."
This year, AIH celebrates the 33rd anniversary of its premier initiative, the African Festival of the Arts, which has presented a Quilt Pavilion since the mid-1990s. A 2019 MacArthur Foundation International Connections Fund Research and Planning Grant allowed AIH to visit Liberia and secure the participation of the Liberian Quageh quilters for this symposium. Distinguished presenters and panelists include the following highly esteemed scholars, journalists, quilt artists, art activists and social and political activists:
Doris Barnes is a quilt artist, member of the Needles & Threads Quilt Guild of Chicago and coordinator of the African Festival of the Arts Quilt Pavilion. Maude Coker Davis is the founder of the Quageh Liberian Quilters. The Liberian quilters produced quilts following the country's civil crisis to generate income to support their families. It is believed their quilting tradition was passed on from repatriated slaves who went to Liberia through the American Colonization Society.