Ahmaud Arbery was posthumously honored in his hometown in Brunswick, Georgia. Citizens turned out in droves to celebrate the naming of a street in his memory.
On Aug. 9, 2022, the parents of Arbery, Wanda Cooper-Jones and Marcus Arbery, joined a crowd and a former Brunswick mayor in commemoration of their son who was hunted down and mercilessly murdered on Feb. 23, 2020, according to First Coast News.  
City officials said that intersections along the entire 2.7 miles of Albany Street, which cuts through the predominantly Black community, displayed signage that read "Honorary Ahmaud Arbery Street." The ceremony took place in downtown Brunswick near a mural of Arbery that appears on the side of a building.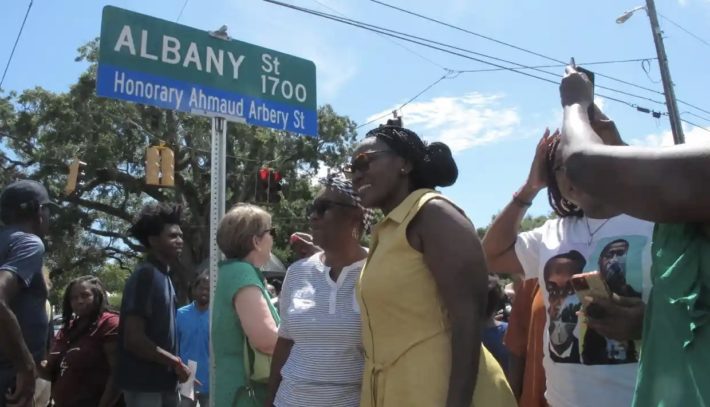 The father and son who were convicted in state and federal court for killing Arbery – Travis and Gregory McMichael  – have received life sentences for the killing. William "Roddy" Bryan got 35 years in federal court for blocking Arbery's escape and then filming the murder in Glyn County.
An emotional Cooper-Jones says her slain son has sparked positive change and hopes that he is remembered long into the future.
"I look at the change Ahmaud has brought since his passing. My only prayer is you guys will not forget his name. Please promise me you guys will always say his name." 
Former Brunswick Mayor Cornell Harvey said there is a silver lining in this senseless tragedy. 
"We did this because we want to always remember what happened," he began. "You say, 'Why would you want to remember such a tragedy?? Because sometimes it takes that to make a change. I am so sorry for the family … but history has seized us," Harvey explained.
Brenda Davis, who lives in Brunswick, explained to the news station about the street dedication. "That's an honor, is all I can say," she shared. Davis added, "He means something to everybody, though a lot of people didn't know him."