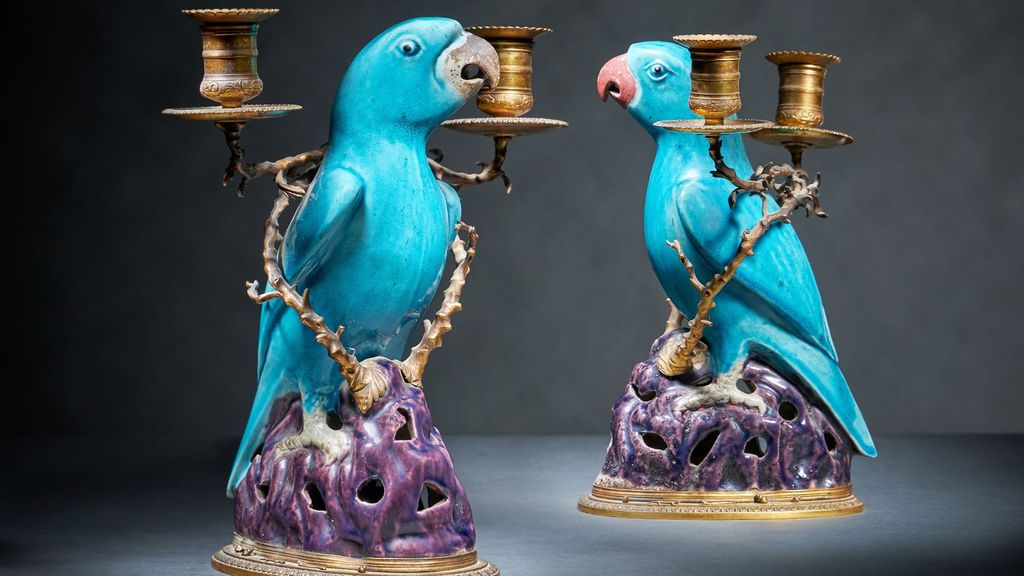 Seventeenth-century Chinese porcelain from banker Anthony de Rothschild's world-famous collection has been rediscovered in his daughter's home.
The pieces had been gifted to her in 1948 when plutocrat Anthony Rothschild donated the family home Ascott House in England's Buckinghamshire region to the National Trust.
The collection was gifted to family members and museums.
Most of it was passed on through the generations and was accounted for but this selection of works had been packed away and were only recently brought to the family's attention.
They bear the unique labels that correlate with the meticulous inventory that Anthony de Rothschild maintained for his spectacular museum-quality collection as he added to it over the years.
The collection will go under the hammer at Drewatts Auctioneers in Newbury, Berkshire, England, on November 9-10.
A fine pair of Chinese gilt-metal mounted candelabra, or candle hZenger News, comprised of Kangxi period (1662-1722) porcelain parrots with a turquoise and aubergine glaze are expected to fetch up to $7,200.
They stand on French mid-18th century mounts with fine details around the rim, which includes a lizard to the foot which could also fetch up to another $7,200.
The collection also features a pair of stunning Chinese white glazed figures of horses from the Kangxi period.
The horses are depicted lying down but with legs bent as if about to stand.
Their manes, forelocks and pricked ears are brown-glazed and they rest on shaped bases.
The pair could fetch up to $6,000.
An eighteenth-century white and russet jade model of a quail dating from the Qianlong period (1736-1795) also features in the collection.
It is very finely detailed, features a vase and lingzhi fungus on a pierced rock base and could also fetch up to $6,000.
Another highlight from the jade collection is the white jade carving of cats, also dated back to the eighteenth century.
In ancient China the cat was considered to be a symbol of happiness.
The cats are carved recumbent and grasping a lingzhi fungus stem which denotes longevity in Chinese culture.
Made of very fine quality white jade, the group could fetch up to $3,600.
An approximately 5-inch Chinese pale celadon and brown jade model from the Qing Dynasty (1644-1911) which depicts a seated monkey could sell for $3,600.
Monkeys feature consistently in Chinese culture, often portrayed as mischievous and cheeky, however they were believed to have the ability to drive away evil spirits and were therefore believed to be able to bring good fortune.
The collection will go under the hammer in a sale of Chinese Ceramics and Works of Art.
Anthony de Rothschild was a prominent banker from the famous Rothschild family and began collecting after service in WWI.
A very passionate collector like his father, he amassed the majority of his works throughout the 1920s and 1930s and was an early lender to the Oriental Ceramics Society exhibitions, which were founded in 1921.
The bulk of his collection was kept at the family's country home Ascott House.
His role in the family business meant that he lived between his London residence and Ascott house.
He and his wife Yvonne Lydia Louise de Rothschild (1899-1977) were well-known for their commitment to public service.
In 1933, they were among several prominent Jewish founders of the Central British Fund for German Jewry, the British refugee relief agency providing emergency relief to those persecuted by the Nazis and in the same year Yvonne become President of a society to aid German Jewish women children.
The Rothschilds offered Ascott House for use as a hospital during the war and when the Chelsea Pensioners were bombed out of their home, it became a safe haven for them for several years.
It was also used by the army for a time and in 1948 the Rothschilds gifted the house to the National Trust, with whom it remains to this day.
The contents of the house were divided amongst the family, with several important works being donated to leading museums, where they are still on display.
Dreweatts Chinese and Asian Art specialist Yingwen Tao said: "We are very honored to sell this rare group of rediscovered works that graced the collection of one of the greatest pioneer collectors of Chinese ceramics of the 20th century.
"I'm sure they will cause excitement and attract attention from collectors around the globe."
Produced in association with SWNS.
Recommended from our partners
The post Priceless Missing Chinese Porcelain From Rothschild Collection Goes To Auction appeared first on Zenger News.