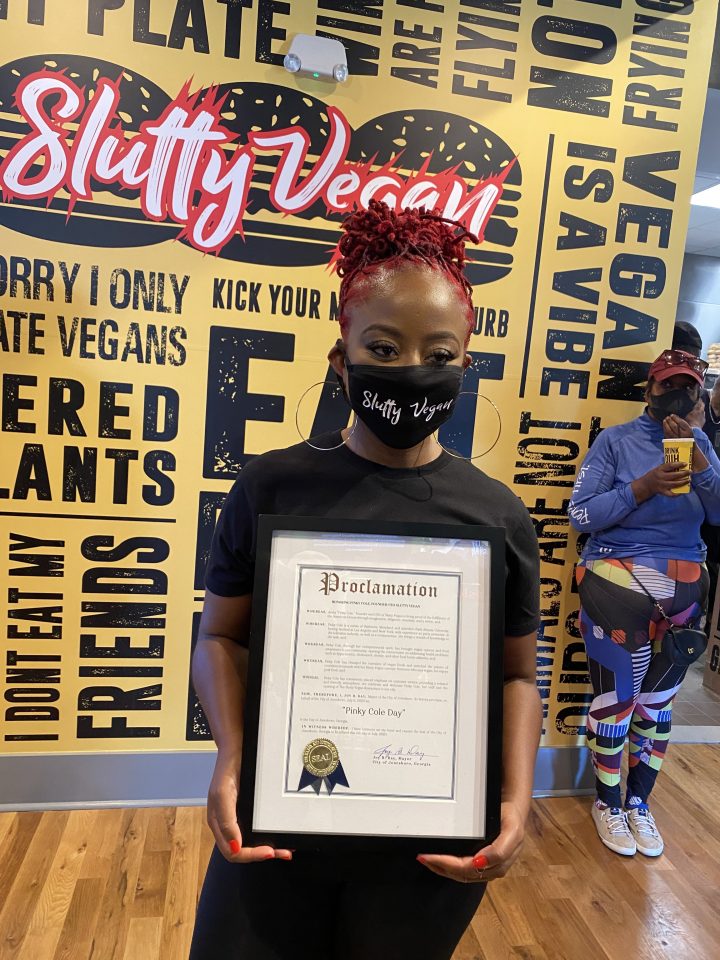 Entrepreneur Pinky Cole, a Clark Atlanta University alumna, launched the vegan food brand  Slutty Vegan to promote healthier lifestyles. Cole recently opened up her seventh location in Brooklyn, New York, where used social media to announce her newest campaign with PETA, The Garden of Vegan. This campaign promotes teaching young people how to achieve success and also live a healthy lifestyle that protects animals and our planet.
Her restaurant chain was established in 2018 with a menu that consisted of plant-based burgers, sandwiches, and sides for every food lover. The key behind the marketing was making the vegan lifestyle sexy with sexual slogans, such as One Night Stand and even Hollywood Hooker.
Cole went from taking orders on Instagram and operating out of food trucks to opening seven locations in just four years. Even now, each location boasts long lines. Pinky's dream has become a reality and the momentum just keeps building.
"This collab is so close to my heart. My beautiful vegan babies and I joined my PETA fam to advocate for families raising vegan kids. I'm teaching my babies that they can achieve anything just like I'm doing with Slutty Vegan, all while being kind to animals, our planet, and their health. I'm encouraging fellow mamas to do the same."
PETA's mission involves finding alternatives from experimenting on animals to wearing them. The organization is also strongly opposed to exploiting animals for entertainment. Slutty Vegan partnered in the effort to help make inroads into protecting the planet and offering another perspective on a healthy lifestyle.
Find out the inspiration behind her latest campaign below.
It's another @pinky907 and PETA collab!

We're celebrating the release of our new ad with her beautiful family at the opening of her brand new @SluttyVeganATL in Brooklyn 🌱 pic.twitter.com/TabLxweB6N

— PETA (@peta) September 21, 2022