Yo Gotti got the new year started off correctly by literally dating the woman of his dreams.
The rap boss and the socialite, Angela Simmons, made their romance Instagram official on New Year's Eve with a flurry of videos and stories on their respective platforms.
Gotti posted a video on Instagram on Dec. 31, 2022, showing Simmons in a flowing black gown and evening gloves posing next to a Rolls-Royce.
"You looking good," he tells the former "Growing Up Hip Hop" star after wishing her a happy New Year, to which she replies: "Mmmm thanks."
The video cuts to the couple sitting in the back of the luxury whip while toasting to 2023 with a glass of champagne. Gotti captioned the post, "Ain loss a crush since High School," as the single "Forever" by Lil Baby and Fridayy echoed in the background. 
Gotti, 41, who was born Mario Sentell Giden Mims, also posted a video showing his six million followers his chivalrous side as he helps Simmons out of the Rolls-Royce while holding an umbrella over her head, followed by a shot of him cupping her posterior with both hands as they shared a kiss.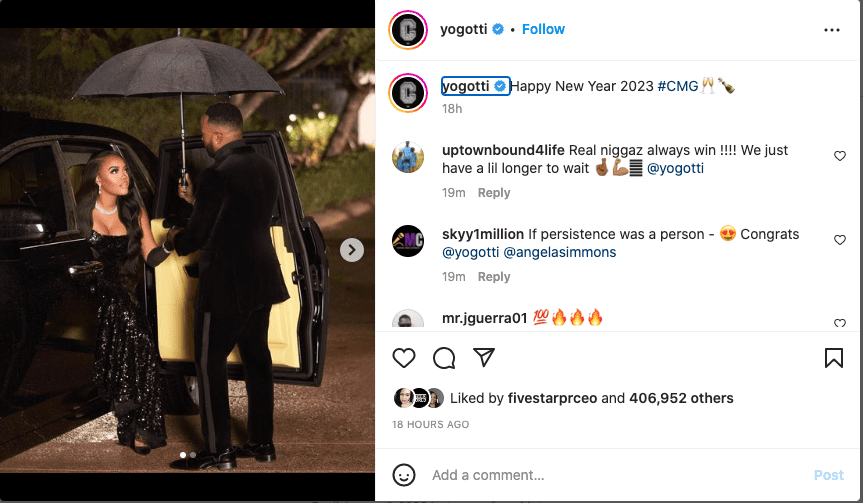 Simmons also confirmed their romance sharing a series of photos of the two in glam looks inside the Rolls-Royce. 
"You are all I need and more," she penned in the caption.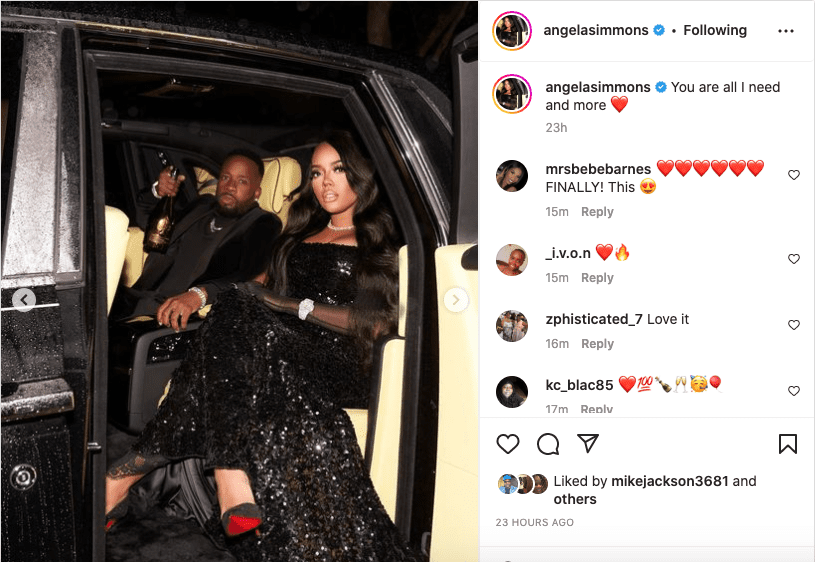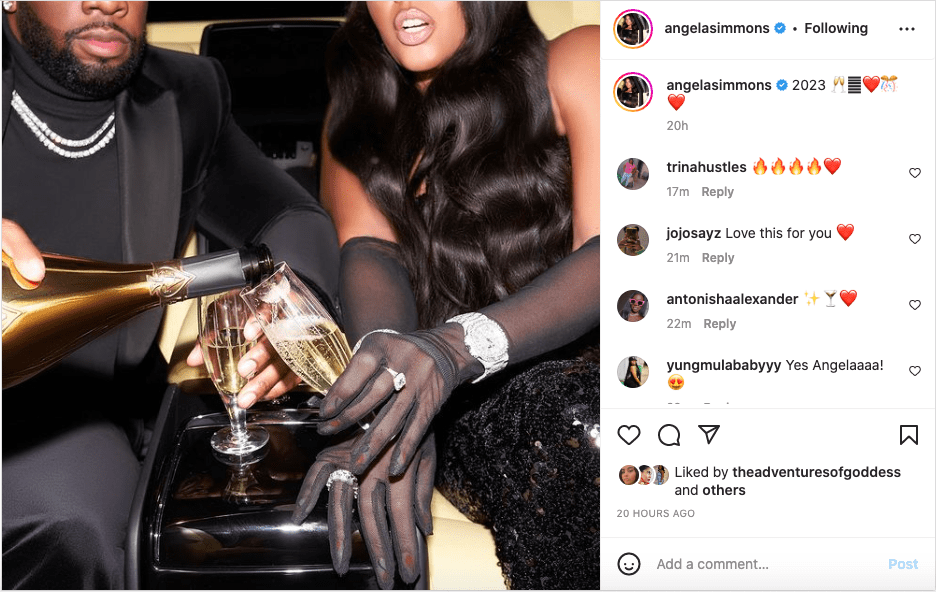 Simmons also showed her seven million IG followers the two of them enjoying the fireworks at the stroke of 12 on New Year's Day.
What makes this celebrity pairing compelling for fans is that Yo Gotti famously proclaimed his infatuation with Simmons on his 2015 hit "Down in the DM." He spit the following lyrics onto wax, saying: 
"And I just followed Angela / Boy, I got a crush on Angela Simmons / They like, 'D— Gotti, you bold' / F— it, I'm gon' let the world know (goals)."
The joint peaked at No. 13 on the Billboard pop chart.
Gotti serenaded Simmons again on his 2017 "Save It For Me" collaboration with Chris Brown. In the single, Gotti admitted that Simmons' engagement to Sutton Tennyson only made him crave her more:
"Passed my number to Angela / I thought I had her / Her n— cuffed her, married, it made me madder/ I respect it, I'm moving on, but the truth is I want her badder / Maybe me sayin' her name made him move faster."