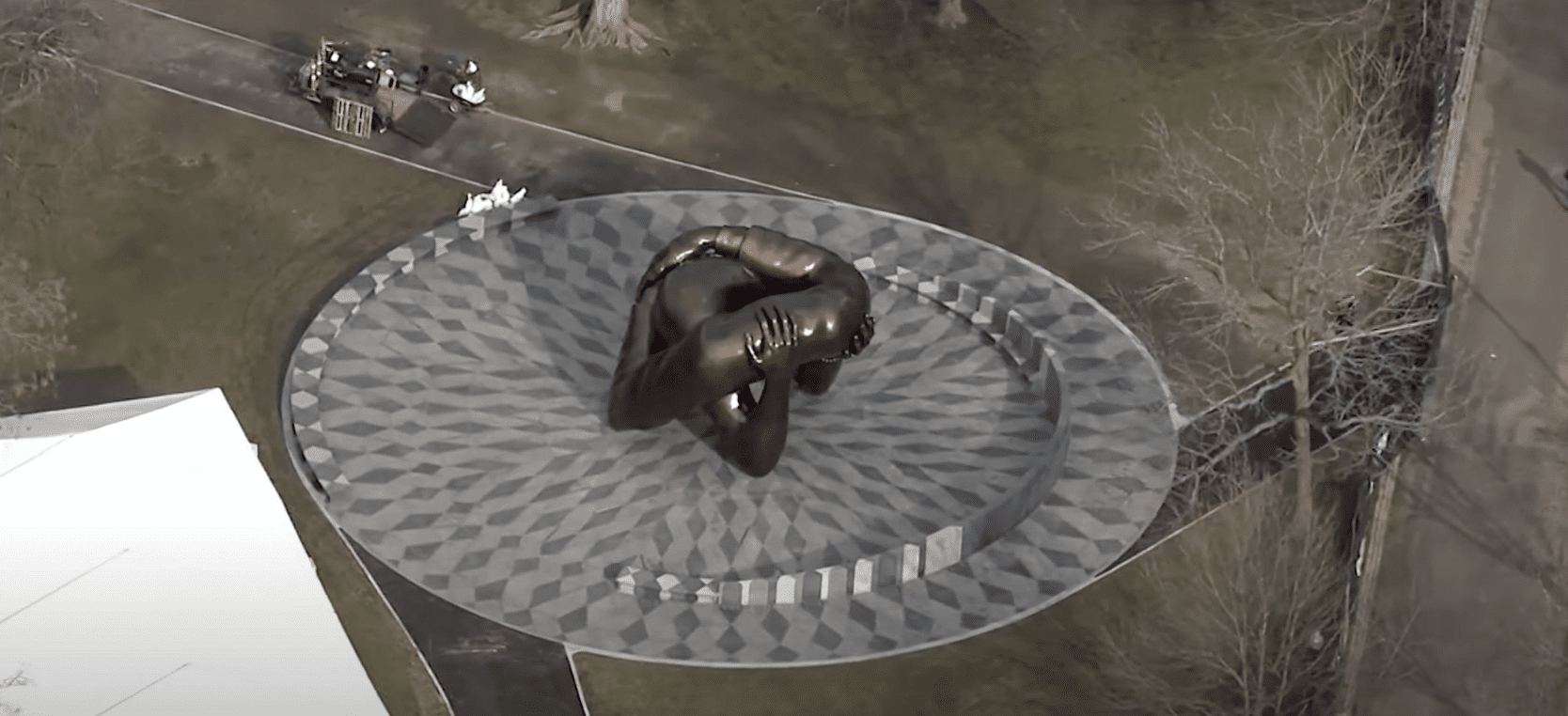 On Jan. 13, the sculpture honoring Martin Luther King Jr. and his wife Coretta Scott King was unveiled at the Boston Common in Massachusetts. The sculpture is called "The Embrace" and is based on a picture of the Kings hugging after Martin received the Nobel Peace Prize in 1964.
"The Embrace" was created by Hank Willis Thomas and the MASS Design Group, a Boston-based design studio.
This Friday: "The Embrace" monument will be unveiled on the Boston Common.

Boston is where MLK and Coretta met in the '50s when they were both students 💕 https://t.co/EHpUr2snGl pic.twitter.com/Vnyd7BP7Tz

— 𝕂𝕨𝕒𝕟𝕚 𝔸. 𝕃𝕦𝕟𝕚𝕤 (@KwaniALunis) January 9, 2023
Hank Willis Thomas, the artist behind #TheEmbrace monument, took the stage with his daughter who had a few messages for the crowd: https://t.co/Ni2S3rhgwC pic.twitter.com/Usv6fapNfw

— NBC10 Boston (@NBC10Boston) January 13, 2023
The sculpture has drawn mixed reviews. Seneca Scott, Coretta Scott King's cousin, wrote a review for Compact magazine: "The new Boston sculpture 'honoring' Dr. Martin Luther King and his wife, Coretta Scott King, looks more like a pair of hands hugging a beefy p—- than a special moment shared by the iconic couple."
Social media users also had a lot to say regarding the statue, and it was not good.
And yes, I'll say it.

From another angle, the statue for real looks like one person is performing disembodied oral sex.

No matter how much I try, I can't unsee it. I don't think MLK would have wanted us to be thinking about cunnilingus on his birthday.

Thanks, Boston. pic.twitter.com/YA0VvVFVeK

— Karen Attiah IS ON INSTAGRAM @karenattiah (@KarenAttiah) January 16, 2023
— C.S. ARMSTRONG (@csarmstrong) January 16, 2023
I'm sorry but that new MLK Jr. sculpture looks confusing from every angle.

— Aaricka Washington (@aarickawash) January 14, 2023
Im still mad about this "sculpture." Even with the picture for contex it's still atrocious. If nobody knows what it is without explanation & pictures of who the limbs belong to you've failed to execute big time! #mlksculpture #MLK pic.twitter.com/1vgNAK4fig

— Petty Pablo (@electricsoul123) January 14, 2023