Less than four months after NeNe Leakes revealed her 23-year-old son Brentt nearly died after suffering both a heart attack and stroke, he has completely recovery from the medical maladies.
Moreover, Brentt Leakes showcased his new physique after reportedly losing 100 pounds since his hospitalization in 2022.
The son, who is draped in a red velvet tracksuit and Celine sweatband, captioned the photo carousel with: "Focus on you until The focus is you. #100poundsdown," 
Brentt Leakes also posted comparison photos from the pre-stroke weight to what he looks like now.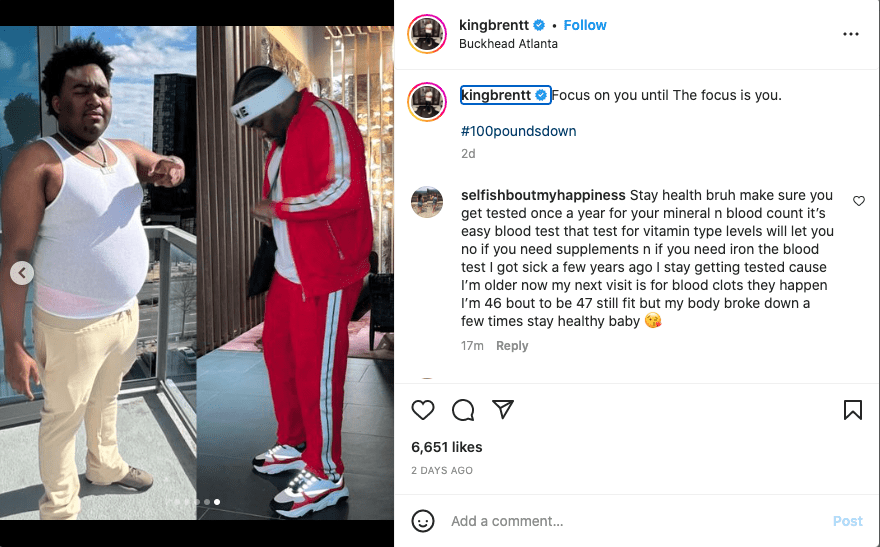 Back in October 2022, the matriarch Leakes broke the news to her millions of Instagram fans that her son was on the edge of death after suffering debilitating medical emergencies simultaneously.
"Two weeks ago today Brentt had congestive heart failure and a stroke," NeNe explained on her Instagram story four months ago. 
"He's only 23 so he's really young for something like that to happen to him."
Leakes told her fans that medical experts believed that the son suffered not so much because of his obesity at the time but because of a bad case of COVID-19. 
"They were thinking that maybe he had caught COVID and maybe he didn't know that he had COVID," Leakes continued. "We are still trying to figure it out, because if we knew the cause then obviously they could treat the cause," she added.
Following Brentt Leakes' extended stay in an Atlanta-area hospital, he was transferred to a rehab facility to continue his recovery.
After an arduous two-month recovery, the reality star shared footage of her son walking again.
"I'm so happy for you," NeNe can be heard saying in another Instagram story. "This is so good."