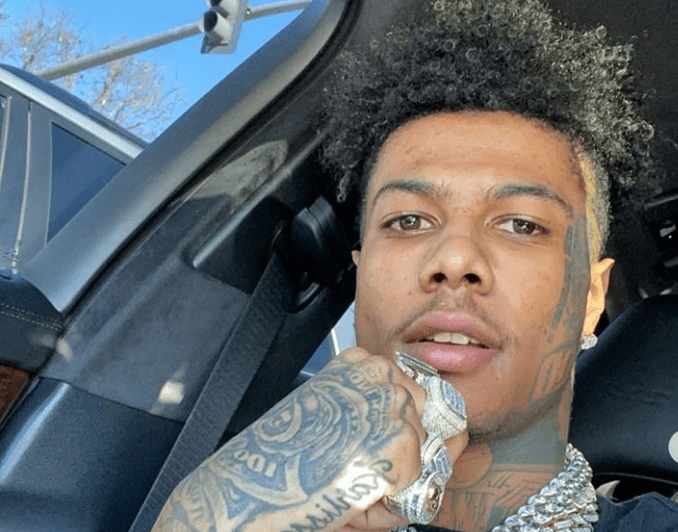 Entertainment's most toxic and problematic romance continues its fist-first mentality between rapper Blueface and girlfriend Chrisean Rock. 
Despite the fact that Blueface declared that he and Rock are no longer a couple, the video that was taped by an eyewitness contends the two are still involved.
TMZ obtained footage of the fight between Rock, whose surname is Malone, and two other women in the middle of the road.
According to the publication, Rock, 22, raced to the scene of Blueface's 26th birthday party at his home to try to coax him to leave with her. As par for the course for these two, they got into a verbal altercation. And then two women who were with Blueface got entangled with Rock while they were in the middle of the street.
Rock, who filmed herself in a pink jumpsuit making her pregnancy announcement for her 2.6 million Instagram followers, was wearing the same outfit when she was rolling around on the ground fighting one of the women. This piece of information is important because Rock is denying that she exchanged hands with anyone on the night of this fight.
A person is filmed trying to intercede in the fight while a shirtless woman held onto Rock's hair and refused to let go. Meanwhile, Blueface and another man simply looked on.
This street scuffle comes amid the announcement by Rock that she is pregnant with their child. Blueface, however, denies he is the father of the child, claiming that she's been with a bevy of other men while they've been dating.
To answer y'all questions yes me an rock are officially done it's strictly business I tried it an clearly it wasn't giving before she announces…she's pregnant with somebody else's child not mine 🙏🏽

— blueface (@bluefacebleedem) January 21, 2023
It appears that this relationship is not yet over, despite Blueface's pronouncement.