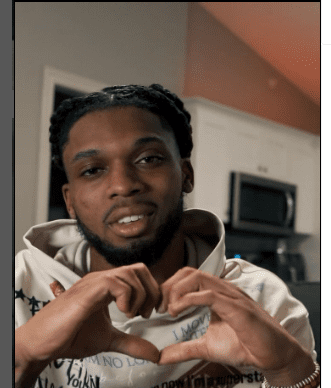 Damar Hamlin goes from being one of the most heartwarming stories of the year to become the lightning rod for the biggest controversy on Super Bowl Sunday.
Hamlin, the Buffalo Bills defensive back who basically died on the field after making a routine tackle before being resuscitated by first responders on Jan. 2, wore a jacket that has caused consternation amongst Christian conservatives, including other NFL players, CNN reports.
Hamlin was in suburban Phoenix to be a part of the Super Bowl LVII spectacular between the Kansas City Chiefs and the Philadelphia Eagles. He was once again honored, this time before kickoff along with the scores of medical professionals who revived him and then ushered him through to complete recovery.
The 24-year-old wore a jacket with Jesus on the back with the word "Eternal" emblazoned on it. The front of the jacket read: "Without end and without beginning, there is no day and there is no night."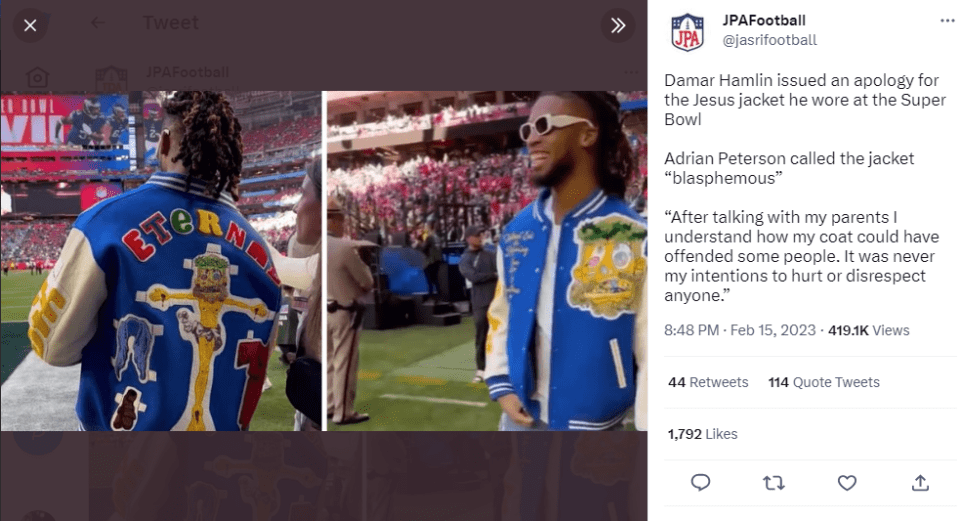 The way that Jesus was portrayed has been subject to criticism, in particular from star NFL running back Adrian Peterson.
Peterson, a former NFL superstar running back and sure-fire Hall of Famer, reportedly called the jacket "blasphemy."
"You should be thanking God son!" Peterson reportedly penned on Twitter before deleting the post according to The Sporting News. "This is Blasphemy!! We all fall short but c'mon man! I find this disrespectful."
After the post, Peterson said he and Hamlin "were able to discuss our thoughts as men."
"I want to be clear, I'm the last person to judge anyone, and that was never my intention. However, I do feel as if the jacket was disrespectful and it was something that I needed to share," Peterson wrote in Instagram. 
"I do realize everyone makes mistakes and falls short at times, so again, my intention was never to judge, just to share my opinion. Damar, I have respect and love for you and I wish you nothing but the best, but I just can't rock with that jacket."
Hamlin later apologized if his innocent gesture rankled the sensibilities of some religious folks. 
Hamlin's apology, notwithstanding, was insufficient for some Christians who went on to rip Hamlin. Others, however, came to Hamlin's defense.