Cardi B incurred the wrath of Dalai Lama supporters and others when the rapper said she was disgusted that the revered spiritual leader asked a young boy to suck on his tongue.
Some also fired back at Cardi by calling her a "predator" and "hypocrite" because of her own testimony that she used to drug men and rummage through their pockets back during her strip club days.
After the video went viral of Dalai Lama kissing the young boy, he apologized, but not before Cardi B told her 30 million Twitter followers that she found his actions repulsive:
This world is full of predators. They prey on the innocent. The ones who are most unknowing, our children. Predators could be our neighbors, our school teachers, even people wit money ,power & our churches. Constantly talk with your kids about boundaries and what they shouldn't…

— Cardi B (@iamcardib) April 10, 2023
Cardi then followed up by reposting a tweet and adding that she exercises strict parental purviews regarding sleepovers.
Yeup….No sleep overs nothing !!! https://t.co/jo4T60jsRZ

— Cardi B (@iamcardib) April 10, 2023
On Monday, Cardi took to her Instagram live platform where she espoused the following:
"This morning, I see this video of this guy — I don't know what he is, if he's like a monk or whatever," she began. "I see that he kissed a boy on the mouth. And it's just like, d—. This just goes back to the conversation I had yesterday. Some people take advantage of religion, and start doing perverted things to our children."
Some fans took umbrage at Cardi's seeming hypocrisy because of her pre-music days when she claimed that she used to put drugs in drinks from guys and then steal their wallets, credit cards and jewelry.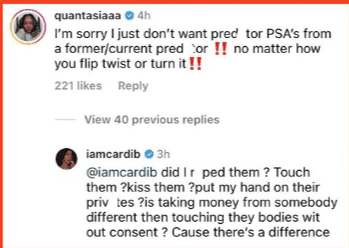 Another user said Cardi was a predator, to which the rapper fired back in a series of Instagram live videos to her 160 million followers.
"Didn't you used to rob and drug men?" she asked rhetorically sarcastically, mocking the person who questioned Cardi. "Listen, y'all not gonna keep doing this. Because when it comes to weird a– predators, and rapists, and pedophiles, and shit, I'm really like, I don't play that s—.
"And for y'all to say that I'm some kind of predator, or some kind of weird b—, because n—– wanted to buy p—- from me, and a lot of y'all were like, oh, these are vulnerable men you took advantage of … These weren't no vulnerable men," she continued. "These were some freak a– n—– that like to go to the strip club, they like to get drunk … and after the strip club is closed, they like to take advantage of b—–s.
Cardi concluded her stream of comments with, "And because of that tweet, people wanna be like, oh, you the wrong messenger. How am I the wrong messenger, b—-? I'm the right messenger. I'm a f—— mom."
🎥 | Cardi B shuts down haters somehow taking issue and calling her the "wrong messenger" for speaking out about protecting children from predators following the recent video of the Dalai Lama's inappropriate behavior with a little boy.

"I am the right messenger, I'm a MOTHER!" pic.twitter.com/Ra65xLuPPU

— KenBarbie™ (@itsKenBarbie) April 10, 2023