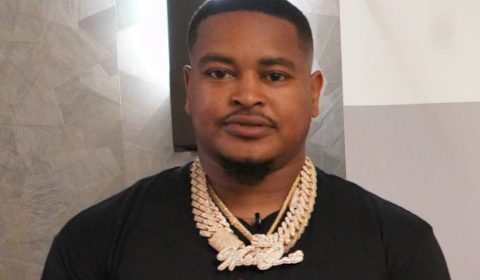 Philly native Anthony Goodwin, who is best known as the "Workout Landlord," is set to host the third annual American Entrepreneur, Sports, and Entertainment Business Seminar. The seminar is a must-attend event for young people who are interested in entrepreneurship and is designed to provide valuable resources to help them achieve their business goals. Attendees can look forward to gaining insight from influential business leaders and networking with like-minded individuals.
A panel of guests will be featured at the seminar, including Dame Dash, Stephen Jackson, Ms. Bling Miami, Milano Di Rouge, Katherine Davido, Ryan Stewman, Justin P, and Him500, among others. The event, which takes place in Philadelphia on May 17 at the Loews Hotel promises to be an exciting opportunity for attendees to learn from some of the most successful entrepreneurs and business leaders in the industry.
Rolling out sat down with Goodwin ahead of the seminar to discuss entrepreneurship, leadership, and handling failures and setbacks.
What do you consider to be the most important characteristics of a successful entrepreneur?
Successful entrepreneurs possess honesty, dedication, and the ability to say no without guilt, which are vital for building relationships. To develop these traits, entrepreneurs prioritize accountability, operate with honesty and integrity, recognize their strengths and weaknesses, and delegate tasks when necessary. These characteristics are crucial for navigating challenges and achieving long-term success.
What do you see as the most significant challenges facing entrepreneurs today, and how can they be overcome?
Entrepreneurs face significant challenges today, mainly increased competition and rapid technological advancements. To overcome these challenges, they must focus on building innovative products or services, adapt to the latest technological advancements, network with others, prioritize financial management, and take advantage of available resources such as mentorship programs and incubators. By focusing on these areas, entrepreneurs can navigate the ever-changing business landscape and achieve long-term success.
What is your approach to leadership, and how do you build and motivate a team that shares your vision and values?
I believe in leading by example and setting high standards for myself to inspire my team. I prioritize collaboration and open communication, recognizing each member's strengths and weaknesses. I encourage diversity and inclusivity, provide regular feedback and recognition, and offer development opportunities to help my team reach their full potential. My approach is based on teamwork, clear goals, alignment, and creating a positive work environment.
How do you handle failure and setbacks, and what do you do to stay motivated and focused on your goals during difficult times?
I handle failure and setbacks by seeing them as opportunities for growth, reflecting on what went wrong and what I can do differently, and staying focused on my goals. I set clear and specific goals, break them down into achievable tasks, and celebrate milestones along the way. I seek support from others and engage in self-care activities to reduce stress and maintain a positive mindset.