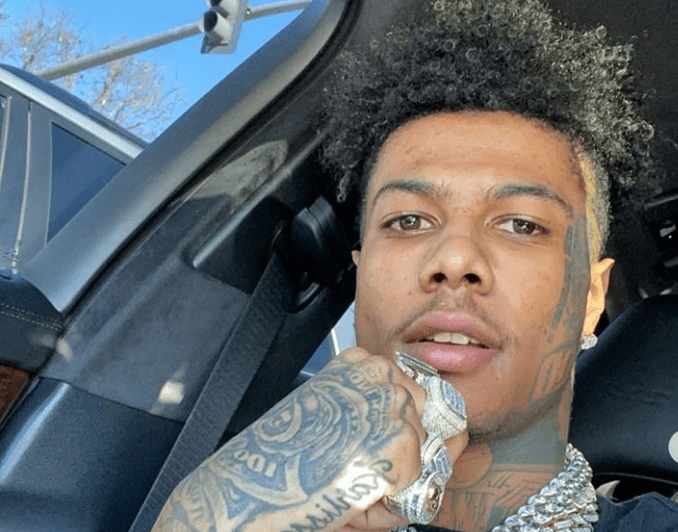 R&B icon Erykah Badu ordered the universe to go to work on Blueface because she believes he is "trash," and it looks like the universe adhered to her commands.
Embattled rapper Blueface has been arrested once again in Las Vegas, the second time he's been apprehended on a felony charge in Sin City within the last seven months.
The rapper born Johnathan Jamall Porter, 26, was thrown in jail for his alleged involvement in a robbery. Blueface was appearing in court for his preliminary hearing on the attempted murder charges from November 2022. He was arrested for allegedly firing at least one round from a gun into a home, car or dwelling.
Once the "Thotiana" rapper stepped foot in the courtroom on Wednesday, June 7, 2023, he was handcuffed and taken into custody on the latest charge, TMZ reports. There is no information yet on what the robbery charges stem from nor where and when in Vegas it took place.
Blueface's attorneys were also clueless. They have no idea what precipitated the Las Vegas Metropolitan Police Department to file those robbery charges.
Instead, the two defense attorneys, Lisa Rasmussen and Kristina Wildeveld, were only able to proffer the perfunctory, "We look forward to vigorously defending him on both cases."
As for Badu, the iconic singer called Blueface "trash" when he featured multiple pregnant women dancing seductively around him in his music video. The video was dropped around the time he claimed he broke up with his pregnant girlfriend, Chrisean Rock. Some fans believed that Badu, a renowned spiritual practitioner and doula, placed a spell on the volatile rapper.