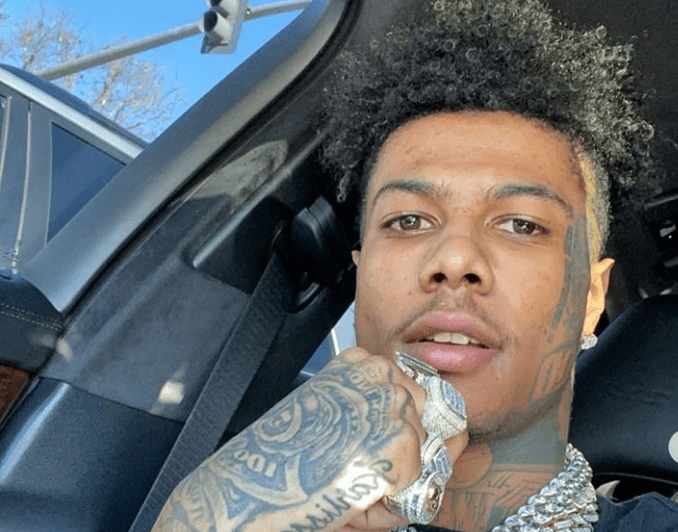 Blueface had the unmitigated gall to mention the Jay-Z and Beyoncé cheating scandal as justification for his infidelity during his volatile relationship with his estranged girlfriend, Chrisean Rock. To add insult to injury he thought it appropriate for him to also offer relationship advice.
Basically, Blueface declared that it is not in his nature to be faithful to one woman, but he compared his romantic situation to Jay and Bey.
"If Beyoncé got cheated on bih you getting cheated on sY you ain't even got half to offer bih," Blue penned in a series of tweets. "I'm speaking to all women be fr. Ain't no female better then Beyoncé an ain't no n—- richer then Jay-Z you get the point."
The Twitter posts were posted days after Blueface shocked fans and said that he has plans to marry Jaidyn Alexis, the mother of his child and whom he  refers to as his "main chick."
Before that, the "Thotiana" rapper exalted Alexis to the higher rank in his life because she is a "solid female," whom he might "have to marry."
"Let's keep showing love to Jaidyn tho' that's really a solid female fr might have to marry her that one really mine fr," he wrote, adding: "Don't worry about it tho' ima make y'all look up to Jaidyn just like I made y'all look up to the last one."
He continued: "Jaidyn my main, anything else is a side don't ever confuse that or play with her name on sY…Imagine the most disrespectful n—- on earth respecting you Jaidyn got the W."
Rock barked back at Blueface via her Instagram Stories in which she admits she has grown very weary of the incessant drama between the two and its impact on her pregnancy. 
"Man I only prayed because I wasn't getting pregnant because of so many abortions. So when we was ready to have one, I wasn't getting pregnant it had me worried about my reproduction system. I didn't have it cuz I needed a cent from you. I just wanted a family with my lover. It's sick how stuff turned out because all I deal with is ya immaturity about something so much serious to me," Rock testifies to her nearly four million IG followers. 
"Then now we have this awkward [a–] relationship because there's so much damage. One thing I ask from you can u be the last person to taunt me through my pregnancy. It's irritating. I thought we was done with the social media BS. In real life I don't need s— from u just love and even that I don't need."