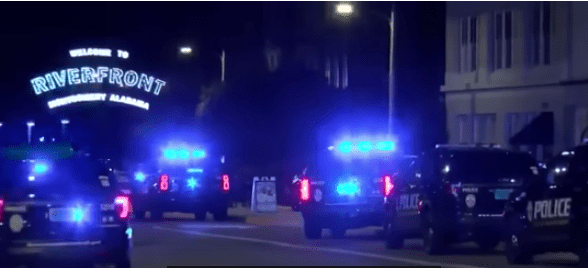 The White men who were involved in the cowardly act of beating up on a single Black security guard at the Riverfront in Montgomery, Alabama, have been charged with crimes.
Montgomery Police Chief Darryl Albert told the media that warrants have been issued for third-degree assault for three White men: Richard Roberts, 48, Alan Todd, 23, and Zachary "Chase" Shipman, 35. 
Albert added that Roberts has two warrants issued for his arrest for assault. One person is already in custody while the other two are expected to turn themselves into the police department on the afternoon of Tuesday, Aug. 8, 2023.
The police chief added that they are looking to interview the Black man seen wielding the folding chair and hammering it over the heads of several White people during the melee.
The brawl emanates from a pontoon boat that had docked in the space reserved for the tourist vessel Harriot which takes passengers up and down the Alabama River.
Albert told the media at the press conference, according to WVTM 13 News, that the riverboat's captain had tried unsuccessfully to communicate with the small pontoon boat for 40 minutes. The captain was only met with dismissals, obscene gestures and profanity.
The lead deckhand, who is Black, implored the White passengers in the pontoon boat to move so that the Harriot could dock. And that is when the violence erupted as one White male punched him and several other joined in. They were seen on video beating the Black crew member and taking him to the ground, where they continued the pummeling.
The beating of the Black man did not last long as a score of Black observers came from different directions to come to the security guard's aid, setting off multiple brawls along racial lines.
The police chief is asking the public to continue to send in additional evidence, such as videos and photos. He told the assembled media that more charges could be filed as the investigation continues.
So far, the chief does not view this violent episode as a hate crime.
"One point I do want to make, this was not a Black and White thing," Albert said, according to the news station.