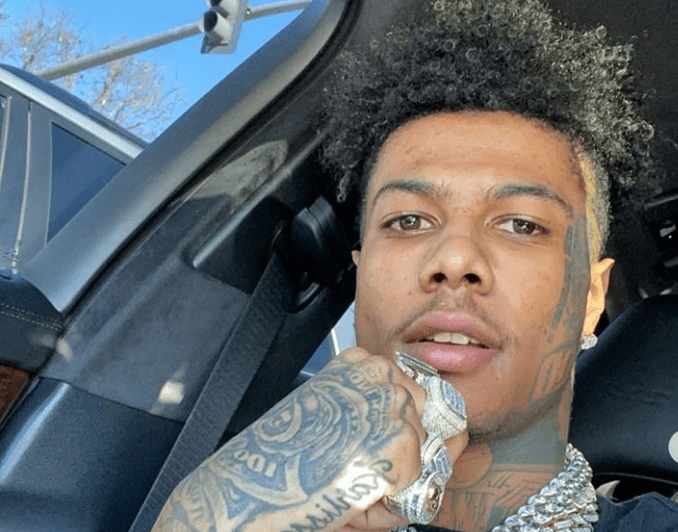 Blueface's latest perversity cost him a visit by LA cops and state officials.
Not long after Blueface and current girlfriend Jaidyn Alexis uploaded videos showing strippers dancing for him, yet in proximity to his kindergarten-age son Javaughn, Los Angeles Sheriff's deputies and the Department of Children and Family Services rolled up on his house.
In one of the videos, strippers in thongs were twerking suggestively for Blueface in the room while his son and infant daughter, Journey, were being watched by a babysitter. In the second clip, Blueface finds his son in the pantry and famously asks Javaugh, 6, if he is gay, as the paid dancers are working it out in a nearby room with Alexis and the boy doesn't seem interested. 
But this is okay ? Hmmm…. Her kids running around the house and she got half naked strippers in the living room …. She nor Blueface can even control their son because of their bad parenting . That child has seen too much. pic.twitter.com/NEMi2fRsuD

— ꧁B̺͆ A̺͆ B̺͆ Y̺͆ D̺͆ O̺͆ L̺͆ L̺͆✞꧂ (@iamdejmilann) September 6, 2023
TMZ reports that the video traveled all the way to officials of Los Angeles County, where DCFS launched an investigation into the matter.
No word yet about the outcome of the county probe. But the entertainment publication also reported that law enforcement has been called to Blueface's home nine times since May 2023. This is primarily due to the ruckus caused by loud music or incessant barking from his dogs.
The fact that the county had to check in on Blueface is dripping with irony. Fans of Blueface and his former girlfriend Chrisean Rock — and their car crash of a reality TV show "Crazy in Love" on the Zeus network — recall that Blueface recently threatened to legally take Rock's newborn baby away from her since she smoked during her pregnancy.