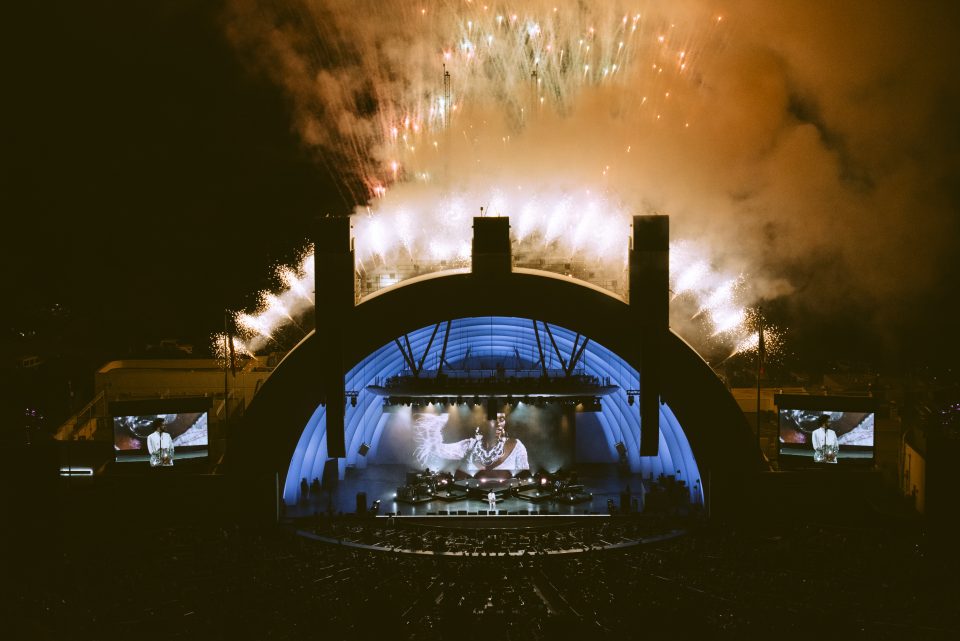 Maxwell took listeners on a spiritual journey of singing, celebration, and love Saturday night at the Hollywood Bowl in Los Angeles. The sold-out performance was the second of a three-night series featuring artists Pink Sweat$ on Friday, SiR on Saturday, and Raveena to close the weekend on Sunday.
The three-time Grammy winner and BET Living Legend Award winner performed with his world-class band while commanding the stage with a medley of his biggest hits combined with sentimental favorites. Charming the crowd, he humbly thanked everyone for attending.
He said, "Thank you for selling out this night, it's nuts! I'm getting a little less nervous up here. The alcohol is kicking in. But thank you for 27 years."
Kicking off the performance with "Sumthin' Sumthin,'" Maxwell rekindled the fire that had made him a music standout since first stepping on the scene in 1996. Following up with fan favorite "DanceWitme" the fully invested crowd took to their feet, swaying along as he commanded the stage in a vibrant suit.
Among the night's top reactions was his performance of his signature hit, Fortunate," which included elements of Prince's "Do Me Baby." The masterful mixing of the sexy serenades left audiences breathless, and Maxwell hilariously quipped that he wasn't responsible for any children conceived afterward.
With the audience along for the ride, other songs on the playlist included "Dance with Me" and "Lifetime." He saved his commercial hit "Ascension (Don't Ever Wonder)" to close the night. The audience showed appreciation with a raucous word-for-word accompaniment. A mega firework display capped off the rousing performance.
The full-set list:
1. Intro
2. Sumthin' Sumthin'
3. Dancewitme
4. Lifetime
5. Fortunate
6. Bad Habits
7. Stop the World
8. Always and Forever
9. Off
10. Pretty Wings
11. Fistful of Tears
12. Lake By the Ocean
13. Get to Know Ya
14. Ascension (Don't Ever Wonder)
15. Whenever Wherever Whatever
Opening Saturday night's festivities, Inglewood-born crooner SiR set the mood. He opened with "John Redcorn." He also performed "Nothing Even Matters", "Ooh Nah Nah," his latest single, "Satisfaction", "Hair Down" and "D'Evils."