Reality TV stars and musicians Tamar Braxton and Tommie Lee are trading vicious blows on social media amid Lee's apparent dating Braxton's ex-boyfriend.
Tommie Lee, a former "Love & Hip Hop: Atlanta" star whose real name Atasha Jefferson, 39, uploaded a post where she appeared to be attending a basketball game with Jeremy "JR" Robinson, 46, and she is rubbing his hand while looking into the camera.
This is the same man that Braxton was engaged to after they met and fell in love on the dating show, "Queens Court," earlier in 2023. However, Robinson said he broke off the relationship in October 2023 citing irreconcilable differences and his desire to return to positivity.
Not Tommie Lee spotted out with Tamar Braxton ex Jeremy Robinson chi 👀 pic.twitter.com/po8wBCmdQd

— Pharaoh Diaries Magazine (@pdiariesmag) November 18, 2023
Lee was defiant while defending her post, saying she hadn't heard any hype surrounding the "Braxton Family Values" return to WE tv until Chrisean Rock reportedly got buck wild backstage at Braxton's show recently.
This, of course, incited a heated retort from the youngest Braxton sibling.

Lee, who has come clean about her past illicit drug addictions, was unbothered by Braxton's slight.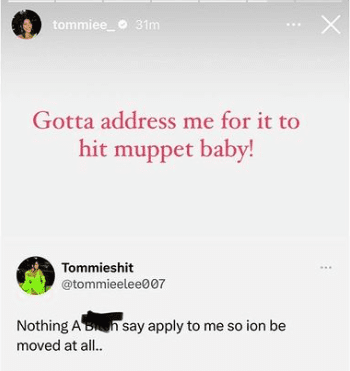 And the situation grew more heated from there.
"So, now y'all want me to address out-of-work reality stars??!! Never," Braxton snapped back. "Me and my 'muppet' employed a– will keep you on the list if I need a non-fighting cokehead for $2,500 an episode for one of these shows of mine I'm casting for. We not the same. Go sell some a– for your next hit. I'm finna come with my next HIT."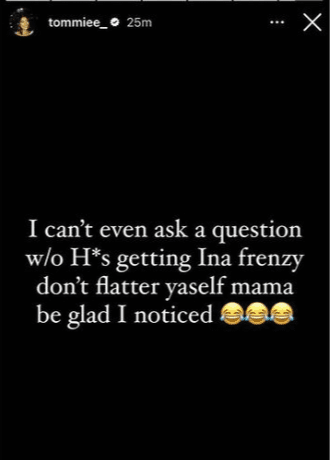 "Ah h– that was crying cause she's the ugly sister. Better STFU playing with me b—-. Don't let the people gas you when you know I could send you into a mass depression just based off looks. I ain't even gotta speak on ya failed marriage and engagement or ya tired wardrobe," Lee continued on her X platform
"I've never been timid or scary. So ion throw underhanded insults nor jabs. I'm very directed with my s— so you can't take it for nothing but what it is," she added on X.