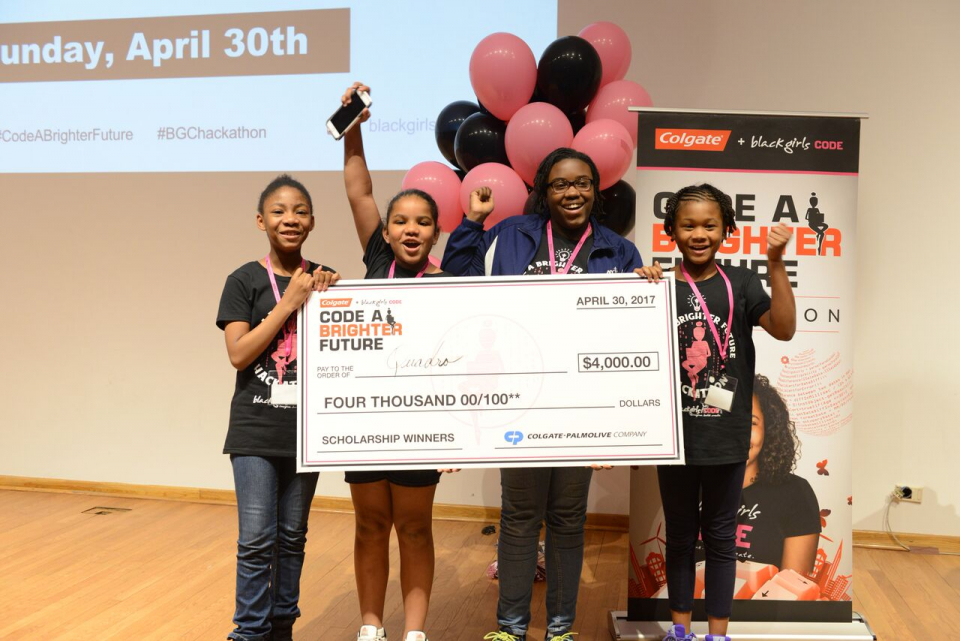 More than 150 young girls convened this past weekend at the NYU Tandon School of Engineering in Brooklyn for the "Code A Brighter Future" Hackathon, a partnership between Colgate and Black Girls CODE (BGC), a nonprofit on a mission to teach one million black girls computer programming by 2040. Throughout this 2 ½ day free Hackathon workshop, the young girls between ages 12 to 17 worked in teams with individual mentors to build and design apps, learn to code and present their prototypes to a panel of guest judges, including entrepreneurs, founders, developers, esteemed journalists and Facebook analysts. The teams were narrowed down to four finalists with Team Quadro taking the top prize. Each team was challenged to create a mobile app that addresses and helps solve a problem in their community.
The team of four created an app called DOGO, which would help dog owners and their friends locate their lost dogs and the closest waste area when on walks. Team Quadro was presented with a check from Carla Kelly, General Manager, U.S. Multicultural Marketing Colgate-Palmolive, for $4,000. All the finalists came away winners with top prizes.
"At Colgate, we believe that everyone deserves a future they can smile about," says Kelly. "This partnership with Black Girls CODE helps us to provide healthier and brighter futures for young girls as they gain access to technology, ultimately transforming their lives and their communities."
The hackathon is education focused and allows students to work in teams with experienced mentors over a weekend building apps and tools. The girls were taught by coders and include ideation, app design + development, and coding lessons.
According to the National Science Foundation, women today fill close to half of all jobs in the US economy, yet hold less than 25 percent of STEM (science, technology, engineering and mathematics) jobs. Even more strikingly, African American women make up only 2 percent of the country's science and engineering workforce. The Black Girls CODE mission is to educate girls of color, ages 7 to 17, in digital media and computer programming skills as well as building lifelong proficiency in problem-solving and abstract thinking.
For more information on Colgate's #CodeABrighterFuture campaign, visitwww.blackgirlscode.com/colgate.