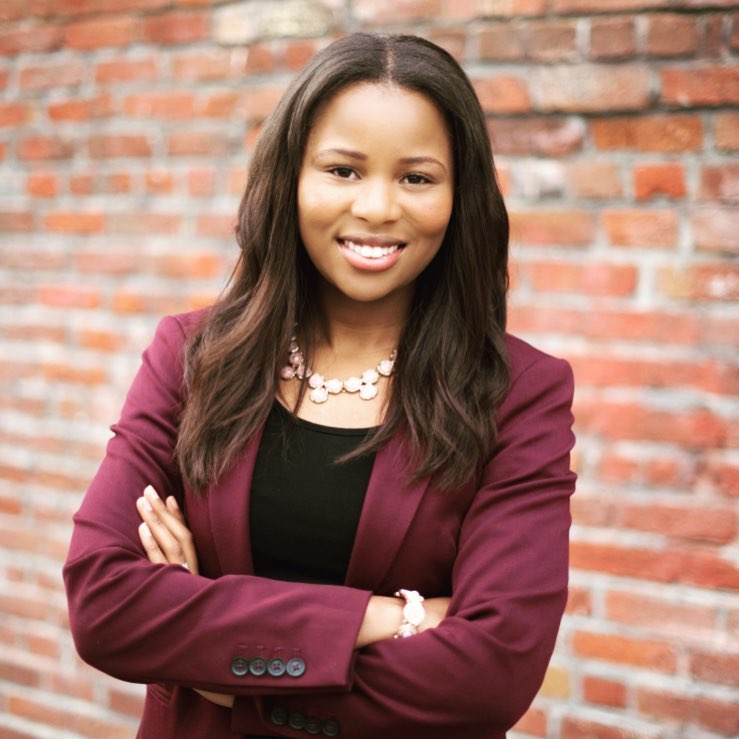 Rebekah Marie Andrews-Rushing is hard working, energetic, a chocoholic and possesses a positive spirit. As an avid traveler, she loves to embrace new experiences.
Her professional background involves five-plus years of account management, sales, and digital advertising experience. As an account executive at AdRoll, she helped provide strategic marketing guidance to B2B clients. As a senior SEM analyst at TMP Worldwide, she supported the Boeing account. Working at Google, she developed exceptional knowledge about the digital advertising ecosystem to help advertisers with online strategies. At The Marketing Store, DDB Chicago and BET Networks, she gained experience in national brand activation events, QSR and broadcast media advertising.
She earned her bachelor's in advertising from the University of Illinois at Urbana-Champaign. Her passion for diversity initiatives fuels her purpose to make an impact in the world for positive change.
Rolling out recently spoke to this change agent on having superpowers, navigating corporate America as a Black female, and affecting change in her community. See what this rising star had to say below.
As a Black woman, what do you consider your superpower to be?
Resilience. As we develop our professional and personal brand, there are various roads traveled to arrive at our final destination. Through the journey, we are tested, challenged, and rewarded. Those who pass the tests of life and learn from their experiences become wiser. Resilience helps me become a true advocate to share knowledge for positive change.
What key skills or qualities make you unique as an African American female leader?
I'm a marketing ad tech aficionado with a positive spirit to inspire others, advocate for diversity and share knowledge to drive strategic growth. Utilizing my marketing skills and being an active volunteer in my community and industry demonstrate qualities that make me a unique African American leader.
What thoughtful or encouraging piece of advice would you give to your younger self?
Do not fear what you can't control. Do not rely on your feelings but rely on the faith God has given you. No man can take you to the next level of your life like God will. He has everything under control. He has shown you the true meaning of faith. As long as you stay rooted in Him, you will always conquer fear. FEAR to you now means Facing Every Adversity Rationally under God.
Why is it important for women of color to lead or work in leadership roles and decision-making capacities? 
It is important for women of color to work in leadership roles with decision-making capabilities because our voices, opinions and ideas matter. Emerging best practices and research has proven that teams that have individuals with diverse backgrounds typically perform better than non-diverse teams. There are competitive advantages of diverse work teams that contribute to innovation, productivity, efficiency and problem-solving. Having women of color in leadership shows our youth that they too can be successful in a business environment. We are more than the stereotypes society places on our TV screens. For example, if we have women of color in leadership at the table in ad and media fields, it would help eliminate racially charged or cultural appropriation content during media development or approval processes. It would help remove negative stereotypes or eliminate the risks for other cultures to be misrepresented.
If you could thank any Black woman history maker for her contributions to society, who would it be and why?
No brainer. I would thank Maya Angelou. Don't get me wrong there are a lot of strong African-American women in history who are powerful trailblazers, such as Oprah and I do love some Beyoncé. Yet, Maya Angelou played a positive influence in my life as a child and showed me there is power in the expression of words via poetry. She has influenced generations of small black girls to be a "Phenomenal Woman" and to still rise above lies, hurtfulness and pain. Her poetry was real, raw and riveting. Our society was blessed to have Maya Angelou's presence.
Why is it important for seasoned and experienced Black women to reach back and help younger women of color? 
Representation is key. For some, if [they] do not see it, [they] do not believe it. It is important for younger women and people of color in general to have positive representation in media and the workplace. Having experienced Black women in the workplace who reach back to help younger women of color provides a sense of belonging. When younger women of color enter the workforce they will have someone to relate to, seek guidance to navigate corporate politics and in some cases share cultural experiences. In the advertising and tech industry, there are constant conversations around the need to improve diversity and inclusion due to the lack of representation. There is nothing wrong with [Caucasian] leaders, it's just something wrong with not being inclusive to truly showcase leadership of thought, gender, culture, and ethnicity. Having experienced black women or women of color in general who reach back to help younger women of color would provide more resources to eliminate the risk of stunting their career progression in the competitive corporate, tech and ad industries we see today.
How do you feel about the hashtag #CollaborationOverCompetition?
I love it. It represents the unity we need in our communities and businesses. America is a nation that needs collaboration to successfully thrive. Movies like Black Panther and Hidden Figures speak volumes [to] how we need to collaborate to advocate and support for the advancement of true leadership and unity in Black communities and corporate America.
What are your thoughts on taking risks? Making mistakes?
Risks allow you to follow your true calling in life. Successful people take risks all the time. Mistakes help mold you into the ultimate diamond. Risks and mistakes always make you a stronger person.
What are three success habits you implement into your daily routine to maintain your success, sanity, peace of mind, etc? 
(1) Always keep the perspective that I can only control myself. This, in turn, allows me to control the types of atmospheres I will keep myself in and keeps me focused on being surrounded by positive people.
(2) Plan and write my goals down. I'm really big on trying to avoid wasting my time.
(3) Absorb motivational content. This entails reading the Bible, motivational books such as Sarah Jakes Roberts book "Don't Settle for Safe" or watching motivational content on YouTube to encourage myself.
Who is your biggest inspiration? Why?
My biggest inspiration is my mother. She suffered from breast and lung cancer. Throughout all the trials and tribulations she underwent she always remained positive. She was very sweet, kind and loving. When I took care of my mother in hospice care that was the moment when I truly saw the meaning of strength.