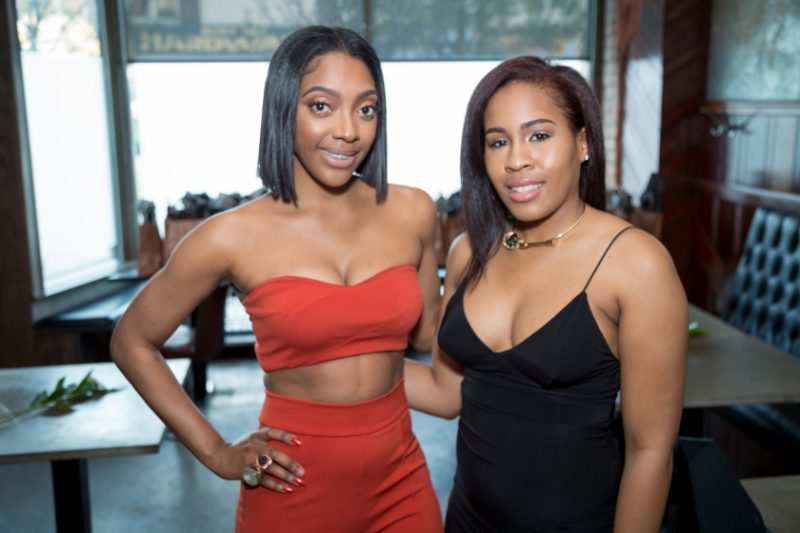 Astrolotea creators Auriele Boulware of Orange Moon Ltd. and Lavonne Ellis of Tealing Co. mix good vibes and good people together with premium tea, astrology and jewelry for a cosmic experience like no other.
After years of separation, a chance encounter at a local Whole Foods reunited the childhood friends and sparked this creative fusion of tea and astrology. Astrolotea is the collective brainchild of best friends and business owners, Boulware and Ellis. They've designed their events to elevate Detroit's art scene to the next level. Guests flocked to the vintage restaurant Antietam just inside Detroit's famous Eastern Market, to experience tea-infused cocktails featuring Tealing Co.'s signature summer blends, zodiac readings, sushi and a spoken word performance by local artist, Suai. The free affair held on June 5 from 7 p.m. to 10:30 p.m. blended fashion and art with wellness in a party atmosphere. Despite the dimly lit atmosphere of the venue, the outpouring of support and positivity lit up the night.
"I am overwhelmed [by] the support we've gotten, especially from other women. I didn't know they were feeling us like that." Boulware gushed.
That overwhelming support trickled down to attendees lining up to purchase samples of tea on hand, housed in reusable Tealing Co. tins and resealable Tealing Co. pouches. The latest offerings from Orange Moon Ltd. were also available for sale in a variety of uniquely created crystal rings, bracelets and necklaces. The brand's zodiac candles, featuring invigorating and sensual scents, created instant fans eager to take home a candle representing their birth sign.  Although guests couldn't get enough of the budding moguls' merchandise, the real stars of the evening were the four tea-infused cocktails, two of which were named after Boulware's and Ellis' zodiac signs.
"We created the tea cocktails since I'm an Aquarius and she [Ellis] is a Sag, named Aquarius and Sagittarius. We wanted to infuse the candle scents with the tea and liquor. It flowed. It really flowed," the Orange Moon Ltd. creator shared.
Thanks to their innovative collaboration and wellness-oriented product lines, these entrepreneurs and lifestyle brand influencers are poised to bring more unique, positive experiences to Detroit.
What inspired you to start your company?
Lavonne Ellis: For me, I used to drink tea in college to help me with my anxiety. I learned about all the health benefits that came with it and as I researched more about it, I realized that I could make it into a [viable] business. So that's when I got started and found a way to make it happen.
Auriele Boulware: This is my best friend [Ellis] since kindergarten so when I met up with Lavonne in Whole Foods, we hadn't seen each other since fourth grade. She asked me did I still make jewelry. I literally forgot about that and at the time I was in massage therapy school getting my license and I had just started learning about crystals. When she mentioned that, I was like let me fuse the jewelry with crystals. That was the first idea. Then I wanted to broaden my horizon and go into home products, which led to me creating the [zodiac] candles. I've been raised around astrology and cosmology. Those were the first books I learned how to read. I researched all the fruits and plants that were harvested around that time of the year to come up with my scents. I wanted to create a product that was tailored to each sign. The name Orange Moon comes from orange being my favorite color, which is the color of creativity [and] inspiration.
What do you feel is your biggest obstacle as a startup for women entrepreneurs in the city?
AB: The challenge for me personally is that people like to mooch off your ideas and, of course, there is getting funding.
LE: I would say for small-business owners like myself, sometimes it's hard for people to be behind your work. Also, believing in yourself. Another obstacle as a small-business owner is self-promotion and just putting yourself out there. You have to decide to move forward with your idea and propel yourself forward like "I'm going to do this!"
How did you two come to collaborate on Astrolotea?
AB: As soon as we met up in the grocery store, ideas just flowed and we picked up right where we left off when we were 8 years old.
LE: I always wanted people to experience tea as not just your grandma's tea. You can drink tea to relax, out with friends at events like this, in tea cocktails — [there are] a lot of ways to experience tea. In terms of astrology, she [Auriele] came to me with the zodiac candles and I said what are we going to call this. Astrology with tea, and that's how this thing came about.
With all the wellness brands on the market, what do you feel sets your tea apart from other brands?
LE: My blends are premium blends sourced from all around the world. They are full in body and very flavorful. I think my brand speaks for quality and that speaks to that model tea brand that thinks outside of the box when it comes to the tea experience.
How does wearing pieces from your crystal jewelry collection help with healing?
AB: Because crystals are natural energy. Crystals are formed by lava and then they harden. They literally have the Earth's deepest core vibrations. Different colors have different meanings and the energy raises your vibrations. The more you wear them and the more you have them in your home, set in certain sections of your house, they create the qualities that you want. They manifest. For instance, this piece I'm wearing has pyrite, for business success and prosperity … I have so many customers that can attest to how these crystals actually help them to be a better person.
Thanks to the tremendous success of Astrolotea, the two have already begun planning future affairs like an astrology and healing seminar, just one out of four workshop-based events in the works through the end of the summer. 
To learn more about Orange Moon Ltd. and Tealing Co. and their wellness movement, visit www.orangemoonltd.com or  www.tealingco.com or follow them on Instagram at @tealingco and @orangemoonltd.