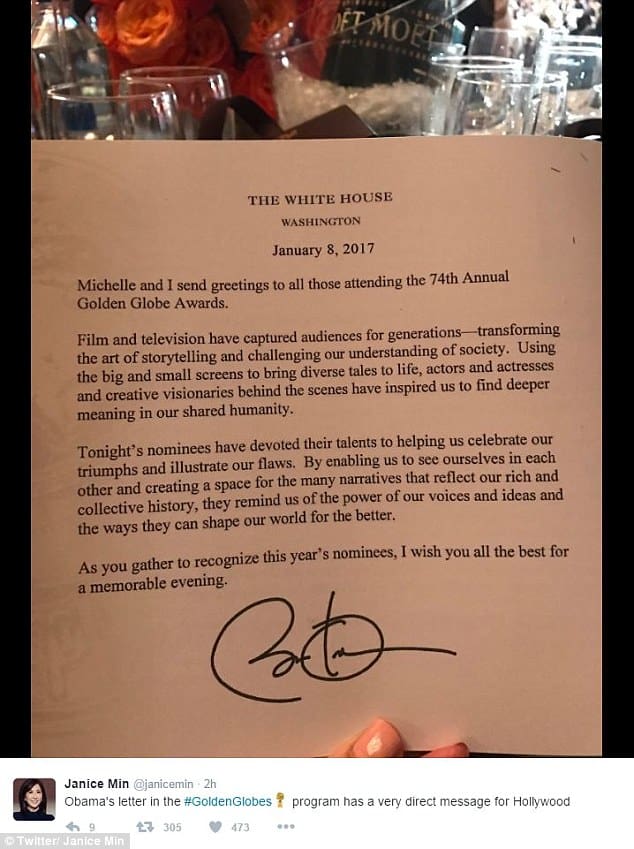 In his last days as the leader of the free world, President Barack Obama pens a letter of congratulations to the 74th Annual Golden Globe Awards nominees. It was included in the program given out Sunday, Jan. 8, 2017, to guests at the Beverly Hilton in Beverly Hills, California.
It's was the biggest entertainment party of the year where LA LA LAND broke a record, winning seven golden statues and Moonlight won best drama.
It reads:
Michelle and I send greetings to all those attending the 74th annual Golden Globe Awards. Film and television have captured audiences for generations — transforming the art of storytelling and challenging our understanding of society. Using the big and small screens to bring diverse tales to life, actors and actresses and creative visionaries behind the scenes have inspired us to find deeper meaning in our shared humanity.

Tonight's nominees have devoted their talents to helping us celebrate our triumphs and illustrate our flaws. By enabling us to see ourselves in each other and creating a space for the many narratives that reflect our rich and collective history, they remind us of the power of our voices and ideas and the ways they can shape our world for the better. As you gather to recognize this year's nominees, I wish you all the best for a memorable evening.
Many of the Golden Globe Award nominees attended the Obamas' farewell bash on Friday, Jan. 6, 2017.
The VIP guest list included A-listers in the film and TV industry such as Meryl Streep, Kerry Washington, George Clooney, Tom Hanks, and new to film but also a Golden Globe winner, John Legend.
They enjoyed chicken and waffles and partied on the dance floor until 3:30 a.m., according to reports.
POTUS nor FLOTUS attended this year's event but in 2013, FLOTUS showed up solo via remote to announce the best picture nominees.