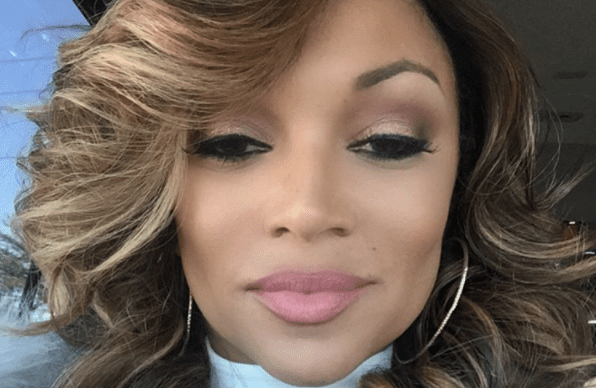 Chanté Moore has got a new man and she's glowing. Rolling out caught up with the petite R&B powerhouse in our Atlanta studio during a tour stop for Je'Caryous Johnson's newest play, a follow-up to Married But Single.
"Married But Single Too is about relationships and how to balance your love life and work at the same time. I play Denise Winters, the main character's manager. I am trying to invigorate him to place all the passions that he has in a music in his life.
"I love working on new aspects. I love that it's a live audience. It's a lot of fun working with LisaRaye McCoy, Bill Bellamy, Carl Payne, Tony Grant and La'Myia Good. All of us are having a good time," she shares.
Married But Single Too "catches up with the life of Sharon Wilson (McCoy) who had dreamed of the day her man would finally pop the question and become her husband. And when he did, little did she know, disaster would follow. After working so hard to get the ring, Sharon never expected her marriage to her rising R&B star husband, Julian, would be hanging on by a thread after only a year. A delayed honeymoon, a neglected anniversary, and many nights apart have rocked their relationship to the core. But even though she's working at it alone, she's willing to do whatever it takes to save her marriage. That is until rumors of Julian's infidelity start floating around, forcing Sharon to give him an ultimatum: end the tour or end their marriage. Not ready to close the door on either part of his life, Julian's indecisiveness opens the door for Sharon's old flame, Jackson (Bellamy), to ignite the fire that's been missing, but this time around, it might just be an inferno because … she's married but single … AND he's Married but Single, Too!"
Moore just released her seventh studio album, The Rise of the Phoenix, on her own label, CM7 Records.
On how she keeps her look flawless while touring … 
It really takes work, commitment and time. You have to get up a little earlier, get your face on and make the hair do what you want it to do. It takes more work sometimes, more than I enjoy. I am a girly girl. I love fashion, makeup and beauty.
Tell us about your new music project and single, "Real One."
Lil Ronnie, who goes by @beats4thestars on Instagram, has helped us put this record together. I am so proud of it. I'm more excited by this record than I have been in a really long time. It's my seventh solo album. It's 2017. My birthday just passed, 2/17. We just did a video that will be out really soon. I am in love and I wrote about it. After six years of being single, I got a man … for real.
My single "Real One" is out right now. It's co-written by me and Lil Ronnie.
My album is about love, travel and relationships. It's titled The Rise of the Phoenix and it's indicative of how I feel right now, emerging from the ashes and everything in my life, positive and negative. I am not the same girl I was 20 years ago. I am learning how to be the best me. I make mistakes. All things work together for my good. I am glad to be clear about that. The album gives you insight into my world.
So you have a man. How is it starting a new relationship?
What I love is since I became single six years ago, I was ready to be single. It wasn't the kind of divorce where you are like arrrggghhhh! Or, I don't want to love ever again. I really didn't feel like that. I felt like it was time to just let go. All the other times, I was looking for the one. I was happily single and content. Now that love has found me, I have to embrace it because I feel like I am ready for it. I took the time to just be me and not worry about whether love was going to find me again or not.
Is love hard to find?
It's hard to find love for anybody. As an artist, people make assumptions about you. And, they make assumptions about who they have to be for them to be special to you. It's a whole lot of presumption that happens before you can say, "Hi, you are attractive. My name is…" or for me to say, "You look handsome…"
A man has to be secure to be in my life. Women know we outnumber men, and we give allowances for behavior that we shouldn't. I won't allow it. I believe in waiting for the right person to see me and be confident in themselves not to worry about the singer.
When you were single, there were times of self-discovery and renewing your mind. How did you get to a place where you could love again?
I fought it the whole way. It took persistence. I gave him a really hard time. He's funny and makes me smile. He has his own life. He isn't intimidated by my life, career and history. I have been married before, but I know what I want.
How important is your privacy with this relationship?
It's important. Even with friends and family in your circle, they can be too close. It can be too much. If you are unsure, you can open too many doors for other people's opinions. Don't allow people to rule your life because you are the one who has to live or not live with that person.
Is your current beau 'the one'?
He's the right one for me when he's in my space and he makes me happy. He is loyal, kind, faithful and makes me feel beautiful. He makes me feel loved and we're friends. That's important, too.