Chanel Dickerson is Washington Metropolitan Police Department's new commander. Her pledge, "Let's find our missing girls," has sparked worldwide attention that is very similar in nature to the global #BringBackOurGirls plea when 276 female students were kidnapped from the Government Secondary School in the town of Chibok in Borno State, Nigeria by the radical terrorist group Boko Haram in 2014.
Members of the Congressional Black Caucus have called for a federal investigation. On Tuesday, March 21, 2017, the lawmakers asked Attorney General Jeff Sessions and FBI Director James Comey to "devote the resources necessary to determine whether these developments are an anomaly, or whether they are indicative of an underlying trend that must be addressed," adding, "(W)hen children of color go missing, authorities often assume they are runaways rather than victims of abduction."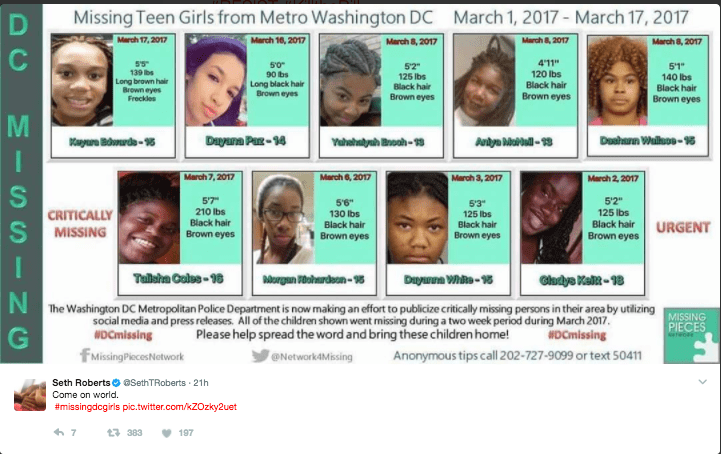 #FindOurGirls is a trending topic on Twitter as the @DCPoliceDept (Washington Metropolitan Police Department) regularly posts profiles of missing black and Latina girls.
"We've just been posting them on social media more often," Rachel Reid, a spokesperson for the DC Metro Police Department, says dispelling the myth that there's an increase in the number of missing girls.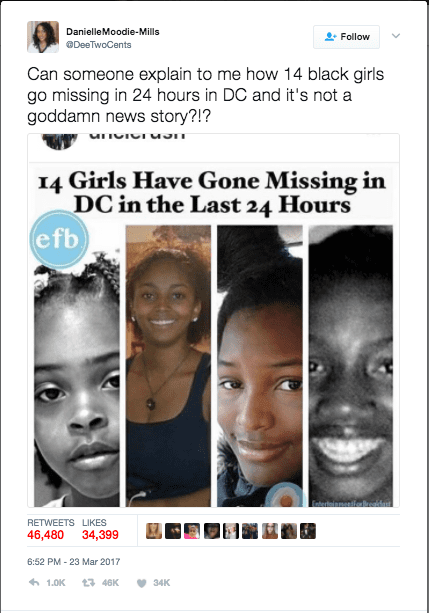 In 2017, the number of missing girls has decreased in comparison to previous years, according to authorities. They also say the post on Twitter that stated "14 girls have gone missing in DC in the last 24 hours" was completely false and that in recent weeks there has never been an instance of 14 girls going missing in DC in a single day, according to NBC Washington.
At the time of this writing, there have been 501 missing children cases in 2017. All but 22 have been solved as of Friday, March 24.