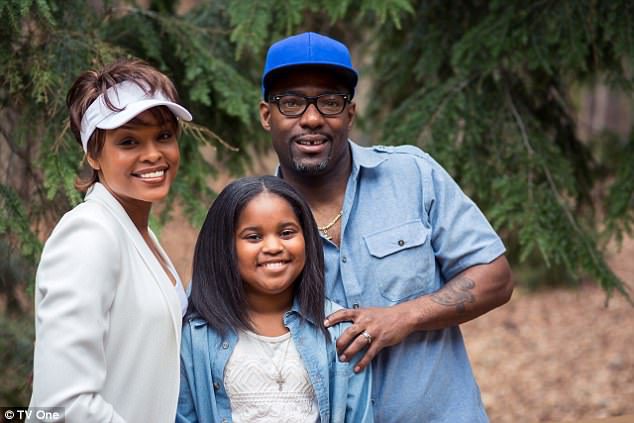 Film stars Vivica A. Fox (not pictured), Demetria McKinney, Hassan Johnson and Joy Rovaris in the title role. (Photo credit: TV One)
Bobbi Kristina Brown, the only daughter of Whitney Houston and Bobby Brown, is getting a well-deserved biopic. The TV special will air on TV One. An aspiring singer, she was found face-down and unresponsive in a bathtub in her suburban Atlanta townhome in January 2015. She was in a coma for six months before dying in hospice care at age 22 on July 26, 2015.
Disney channel star Joy Rovaris ("Stuck in the Middle") will play Bobbi Kristina. Demetria McKinney has been cast as Whitney Houston and "The Wire's" Hassan Johnson was tapped to play Bobby Brown.
Also cast in supporting roles are Vivica A. Fox who will play Pat Houston, while Bobbi Kristina's boyfriend Nick Gordon will be played by Nadji Jeter.
Scheduled to premiere this summer, TV One describes the show:
Bobbi Kristina is the made-for-TV biopic, inspired by the life of Whitney Houston and Bobby Brown's only child. Bobbi Kristina Brown grew up in the shadow of her uber famous, superstar parents' spotlight. This film offers an intimate look at the highs and lows of parental, familial and romantic love complicated by fame through the eyes of a sensitive, vulnerable young woman.

Her high-profile life – and death – may have been shrouded in mystery, but this film will reveal her humor, her quirks, her deepest fears and longings as well as her fight to be seen, heard, and loved. The narrative structure takes the viewer on a dramatic journey of memories, conflicts, visions, perseverance, faith, friendship, and ultimately love — the love of a man and a woman, the love of a father and a daughter, and the bond between a mother and a child.
In March 2016, Fulton County Superior Court Judge Henry Newkirk unsealed the autopsy results of Bobbi Kristina Brown. According to the autopsy, marijuana, alcohol, "a cocaine-related substance," sedative and anti-anxiety medications and morphine were found in her system. The manner of her death was classified as undetermined.
Fulton County Superior Court Judge T. Jackson Bedford ordered Bobbi Kristina's romantic partner Nick Gordon to pay $36,250,000 in damages in a civil suit. Gordon repeatedly failed to meet court deadlines in the civil suit and the conservator of her estate won by default.