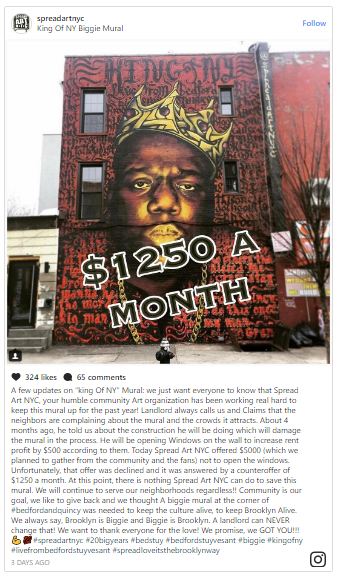 A two-year-old mural depicting the Notorious B.I.G in Bed-Stuy, New York is scheduled to be removed, according to the landlord of the property Samuel Berkowitz, who has plans to renovate the entire building.
The two-story mural located at the corner of Bedford Avenue and Quincy Street has become a staple for the local community and has attracted thousand of tourists and hip-hop enthusiasts since its unveiling.
In a recent telephone interview conducted by DNAinfo.com on Thursday, Berkowitz told the media outlet he saw no reason to keep the mural.
During the interview, he made it clear he's not here for a debate: "I don't even see the point of the discussion. I could demolish the building if I wanted to, I don't need no permission from anyone except the DOB."
Many believe, this move confirms that gentrification is alive and well. The late Brooklyn rapper is native to the area and the mural serves to keep his legacy alive, but not for long. Berkowitz has secured permits in March for the work, which includes a gut renovation of the second floor and the addition of two windows to the wall with the mural, the outlet also details.
In an Instagram post by Spread Art NYC, a collective affiliated with the mural's artists Naoufal "Rocko" Alaoui and Scott "Zimer" Zimmerman, the group said Berkowitz had offered to keep the mural up in exchange for a hefty fee of $1,200 a month, but said the collective would be unable to keep up the cost.
Stay tuned for more as the story unfolds.