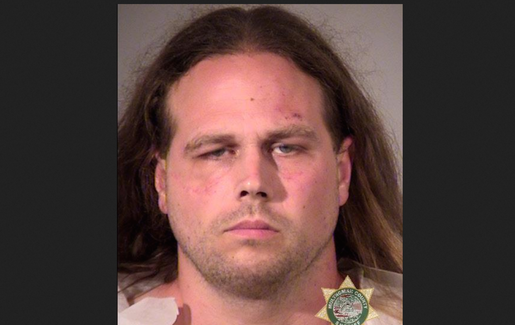 Another White male terrorist has attacked in America. The latest incident occurred on public transportation in Portland, Oregon on May 26.
According to KOIN 6, Jeremy Christian, a self-proclaimed White supremacist, entered the MAX public train and began yelling anti-Muslim slurs. He soon turned his attention to a woman wearing a hijab and aimed the racial slurs at her. May 26 happened to be the first day of the Muslim holy-month, Ramadan. Christian threatened and yelled at the Muslim woman to get off the bus.
In an attempt to stop Christian, two men approached him. Christian attacked the men by slashing their throats. One man died on site, the other died after being rushed to a hospital.
Christian has a history of embracing racist ideologies and it was only a matter a time before he would be involved in racial terrorism. He would attend White supremacist rallies and was once photographed giving the Nazi salute.
But Christian was also a strong supporter of Donald Trump. He referred to Trump as "the Next Hitler" and would often carry signs with Trump's political moniker, "Make America Great Again."
Christian is another example of how Trump's racial rhetoric has put Americans in danger. His hate speech has caused racist Whites to gain a new sense of confidence when attacking minorities. Racism, just like joining ISIS, should be considered a crime in America.
On May 20, Richard Collins III visited two friends who attended the University of Maryland. According to Baltimore Sun, Collins and his two friends were waiting for an Uber when they were approached by Sean Urbanski, 22. When Urbanski walked by he allegedly yelled, "Step left, step left if you know what's best for you!" Collins told Urbanski, "no." Apparently frustrated that a Black person would not comply with his order, Urbanski turned violent. Urbanski stabbed Collins in the chest.  Collins was rushed to a local hospital, but he was later pronounced dead.
In Houston on May 2, James Scott Lee, 32, began yelling racial slurs at a Black man while holding a knife. Lee yelled, "I hate n—s, and I'm going to kill me one today!" Lee chased his Black victim with the knife and brass knuckles. The Black man eventually escaped by jumping into a car and locking the door.
On March 20, James Harris Jackson traveled to New York for the purpose of killing Black people. He approached Timothy Caughman, 66,  around 11 p.m. and stabbed him several times. Caughman was able to walk to a police precinct, but he eventually died from the stab wounds. One day following the attack, Jackson walked into a police precinct near Times Square and told authorities that he committed the murder.
Christian was charged with two counts of aggravated murder, two counts of second-degree intimidation and one count each of aggravated murder and being a felon in possession of a restricted firearm. He has yet to be charged with a hate crime.