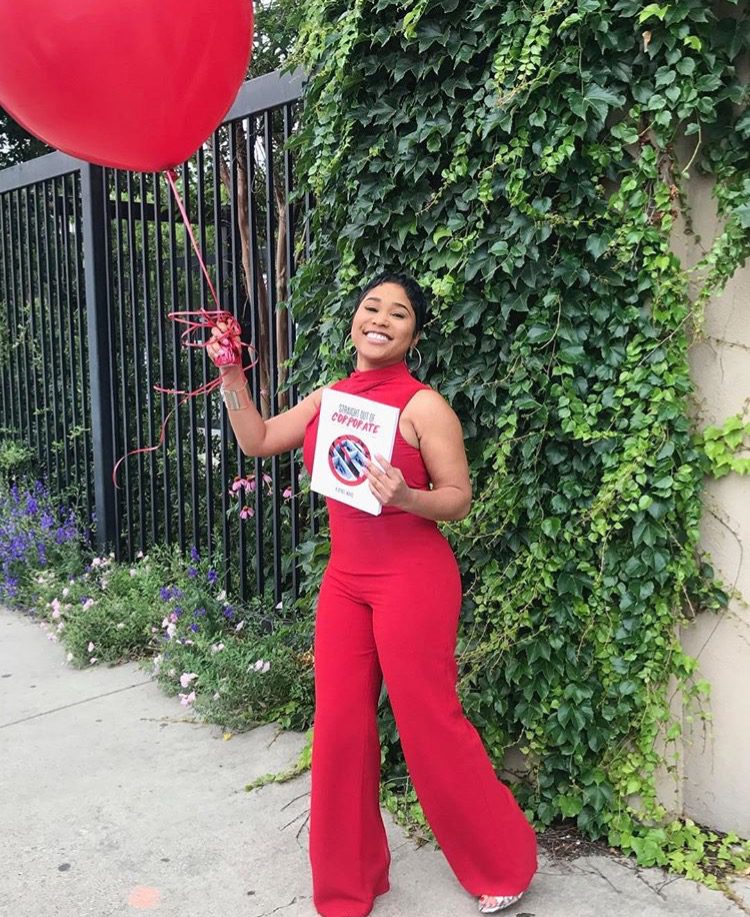 After 12 years as a corporate climber, K. Renee Ward decided to retire, putting the corporate rut behind her. The Atlanta resident with New Orleans roots already had a plan B in mind; she had witnessed the day-to-day hustle of an entrepreneur while growing up by watching her parents, both of whom worked for themselves. She knew that one day, she too would dance to the beat of entrepreneurship. While working for a Fortune 500 telecommunications company managing hundreds of employees in the sales and marketing department, she was able to build a six-figure business even before transitioning into full-time entrepreneurship.
While empowering, educating and encouraging budding and existing entrepreneurs to follow their dreams, Ward has become an international speaker, thought leader and host. Her passion lies in helping others chip away at fear to discover an entrepreneurial mindset to eventually help them step Straight Out of Corporate.
Tell rolling out where did the name of your entrepreneurial guide, Straight Out of Corporate come from?
Straight Out of Corporate was inspired by the N.W.A biopic, Straight Outta Compton, but derived from the feeling of wanting to bust out of a situation and mindset that you have to work a nine-to-five to be successful. The book itself is the type of supportive advantage I wish I had when transitioning into entrepreneurship away from feeling undervalued and underappreciated at my job. I put together a guide for someone who is ready to put together a game plan to make real money at being their own boss. It's perfect for professionals who need a nudge in the direction of turning their passion into a paycheck.
Did you choose the entrepreneurial life or did the entrepreneurial life choose you?
I chose entrepreneurial life back in 2009, side hustling while working a full-time job. I was born to entrepreneurial parents and I think I got caught up in corporate America, but always knew I should have been an entrepreneur from the start. I started my first business in my early 20s, which was an event planning firm called Rock Star Experience. It failed miserably because I didn't have enough information on partnerships and the operations of running a business. That experience taught me a lot about growth and has catapulted me into the success I've realized with my current businesses.
What should entrepreneurship mean to the Black female?
Conquering yourself to conquer and sustain a business. Basically, success begins from within, such as conquering your fears, translating your daily practices into those that cultivate achievement of the goals you set before yourself. No matter how small you start, you elicit a powerful mindset that leads to growth, entrepreneurship, investing, giving back and so forth.
What do you think is keeping most budding entrepreneurs from stepping out to own their own business?
Fear. Absolutely! It's the story that they continue to tell themselves about success. Fear kills many things before they can come to fruition. In Straight Out of Corporate, I encourage you to put faith over fear by breaking down exactly what you are fearful of, getting out of your own way and getting out of your own head. Fear is keeping many budding entrepreneurs from starting their businesses. Also, consuming too much information. It's paralyzing to read and research, read and research. It leaves you overwhelmed with all of the free information out there and you don't know where to begin, who to listen to or who's advice to follow.
Name two major pitfalls that lead small businesses to fail.
Not having an investor's mindset with their own business. It's an easy trap to think that once you begin 'making money' from your business that you can live off of those funds. Most small businesses don't see a true profit for the first three to five years. When starting and growing a business, that investor's mindset will steer you to reinvest profits into scaling up versus spending on frivolous things. Yes, some entrepreneurs are seeing their businesses grow rapidly, but in order to sustain, you have to reinvest for lasting revenue.
The second pitfall is doing your own marketing. Even if you cannot afford to hire a marketing professional to flush out a complete marketing campaign, I feel that it is absolutely necessary to invest at a strategic level to gain ideas from someone who knows exactly what they are doing. Entrepreneurs spin their wheels figuring out marketing, but do not have the tools to track numbers and results, so they get caught up in the cycle wasting money in marketing instead of seeing results.
What is your toughest struggle as an entrepreneur and how do you overcome it?
I don't think we ever completely overcome our toughest struggle. Being an entrepreneur has consistent struggles. I have difficulty managing the money I make and ensuring that there are no money leaks in my business. I overcame that shortcoming by hiring a CPA to keep track of my overall financial strategy and a bookkeeper to watch my monthly books. This keeps me on task. A lot of people know how to make money, but they don't know how to manage money. I feel like managing money is equally as important as making it.
How does entrepreneurship fit into the group economics mentality?
Empowering women to believe that they have the ability to create and sustain wealth within our own communities is crucial. Unfortunately, business is still highly segregated. Why wouldn't I want to feed into the minds of strong, able and creative thinking people like myself? The crabs in a bucket mentality should have died decades ago. There is enough to go around. If we help each other, we all succeed. The more businesses we own, the more pride we take in supporting Black-owned businesses, the more money remains in our communities.
What's next on your list to conquer?
Right now, I am passionate about helping Black professionals earn money, keep money and grow money. Really, that all boils down to building stability through wealth creation. In the arch of entrepreneurship, there is no limit to the amount of money you can make or the number of businesses that you can own. Hopefully, my projects will continue to see strong efforts as it relates to group economics and recirculating money within our own community. Straight Out of Corporate has been quite successful thus far. That further solidifies my notion that there truly is a hunger for this type of guidance.
Get connected with K. Renee through her Instagram @kreneeward.