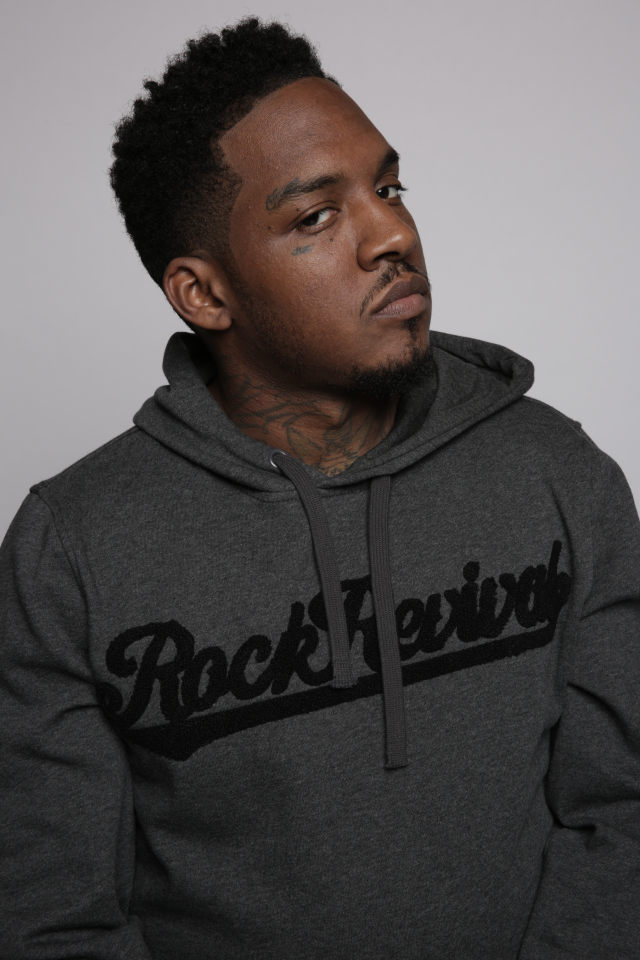 Stretch Money
Photo Courtesy of Novacane Music Group
Summer is almost here and the music is as epic as the barbecues. You and your fam will have to hook up the ribs, but Detroit hip-hop legend Stretch Money has your playlist covered with his new album, Time Is Money. True hip-hop fans will appreciate his dope delivery as he talks about real s— that happens to real people. "I speak for the 'hood in general. Regular people, day to day, EBT and Captain Jay's," he explains. "'Pac found a way to speak to our hearts and I think that's what my music does. It wasn't all fancy. He just gave you what was real and that s— stuck to you like good food."
Back in 2006, Money's debut single, "Takes Money to Make Money" reigned on Detroit's rap scene. He eventually gained national appeal. Rolling out caught up with Money during his Time Is Money promo tour. Making money is still on his mind, but he's focused more on keeping it 100. Peep our convo with the clever lyricist below.
Congrats, we're glad you're back on the scene. Explain your hiatus.
Simply put, I dropped a project with Nick Speed. I'll call it a hip-hop project for lack of better words, and that kind of started my hiatus.To the streets, I was absent 'cause that project wasn't on the streets; they didn't really take to it. I dropped the album with Nick Speed, and then I had to do three years in prison. I got caught in Ohio, dealing with some drugs, and I had to do three years for that s—.
How long have you been home?
I've been home seven months.
You sound like you've matured. How would you say that you've grown lyrically?
Lyrically, I feel like I don't rap no [sic] more, I just say what needs to [be] said. It's put together in rap form, but I really got something to say versus just rapping.That's the difference between me and a guy who's just saying a bunch of words that sound slick just 'cause of the way he's saying it. What the f— did he say that you gon' remember? I used to be a great rapper, but now — let me talk to you. I'mma still put this in rap form so it's tasteful to you, but you're going to walk away saying, "Damn, did that n—- just say that?" That's the difference between now and then.
Tell us about Time Is Money. It seems like a good album to bump during a barbecue.  Each track has a different vibe. "STFU" has a trap music twist. How did you strategize to come back out and let them know that you're still relevant?
I'm a student of the game. I study the game, so it's only right that I listen to what's going on currently and I find my median. I'm not gon' ever do what's being done, but I will see what's going on and I'll adapt and I'll do it my way. And when I do that, you get s— like "STFU." It was just a matter of me listening to what's going on.
I gotta ask about this one line in "Road to Riches." You said, "I'm from Detroit and I can't wait to put us on. Them other n—– been representing us wrong." Is that a diss to some of the artists here in Detroit? What's that about?
If they wanna take it as one, I'm fine with that. Stretch Money, NMG, us as a whole, we ain't never [sic] been negative. But I mean what I said. I want to put a name on it, but I ain't gon' do that—they know who they is [sic]. Up until the past couple years, Detroit ain't had the proper representation. As far as like ain't nobody that came out of Detroit that represents the cloth that I'm cut from. It ain't been nobody from the D that really took it on a nationwide scale that represented for the n—– in the street.
Whether they was [sic] broke or hustlin' or whatever they was [sic] doin', it ain't never been nobody that represented that cloth. Eminem don't [sic] represent that. Big Sean don't [sic] represent that. It's not to discredit them in any form or fashion, it's just not what they represent. And the muthf—– who call themselves representin,' they was [sic] doing it wrong too.
What about Tee Grizzley? He's getting love nationally. 
Actually, Tee Grizzley is the first; he's representin' well. Tee Grizzley, to me, he's definitely representin' well the cloth of the type of n—– and rappers that I've been around, that I'm cut from.
Which tracks are your favorites?
My favorite song is "STFU." "The Way I See It" is definitely one of my top favorites. "Road 2 Riches" is definitely a bad muthaf—- and "Another 1." Whether you like what's being said, it's got a real good bounce to it. I almost forgot, "No Questions." It's like in the same category of "Takes Money to Make Money," but it's like 10 times better.
Who are your dream collabos? 
Nipsey Hussle, Master P. Nipsey is my favorite rapper. Mozzy from Sacramento, [California].
Presented by Novacane Music Group, Time Is Money is available now on all digital outlets. Check out the first single "STFU" and his "DNA" freestyle video below. Visit www.stretchmoneydet.com for updates.