Photo Credit: Regis and Kahran Bethencourt
Regis and Kahran Bethencourt are soul mates who share a vision of the ideal picture of what real photography looks like. Originally from Atlanta, these two visionaries are the imaginative forces behind CreativeSoul Photography. With seven-plus years of experience, the dynamic duo has traveled the world, specializing in children's photography. and have photographed the children of A-list celebrities, such as Diddy, The Game and more. Their photos tell stories and give children a sense of style and identity.
The Bethencourts love what they do, and it shows in their work. They have received wonderful feedback and gained exposure from "The Real " daytime talk show, Essence magazine, OWN Network, Munaluchi Bride, MochaKid magazine and more. Honing their craft as industry leaders in photography, the Benthencourts have sought inspiration from their trips to the United Kingdom, Netherlands, Italy, South Africa, Greece, Cuba and Ghana.
They are currently working on a project that will aim to empower children with natural hair by capturing a day in the of life CreativeSoul's signature style. Their final collection will be presented in a beautiful fine art book to be sold worldwide later this year.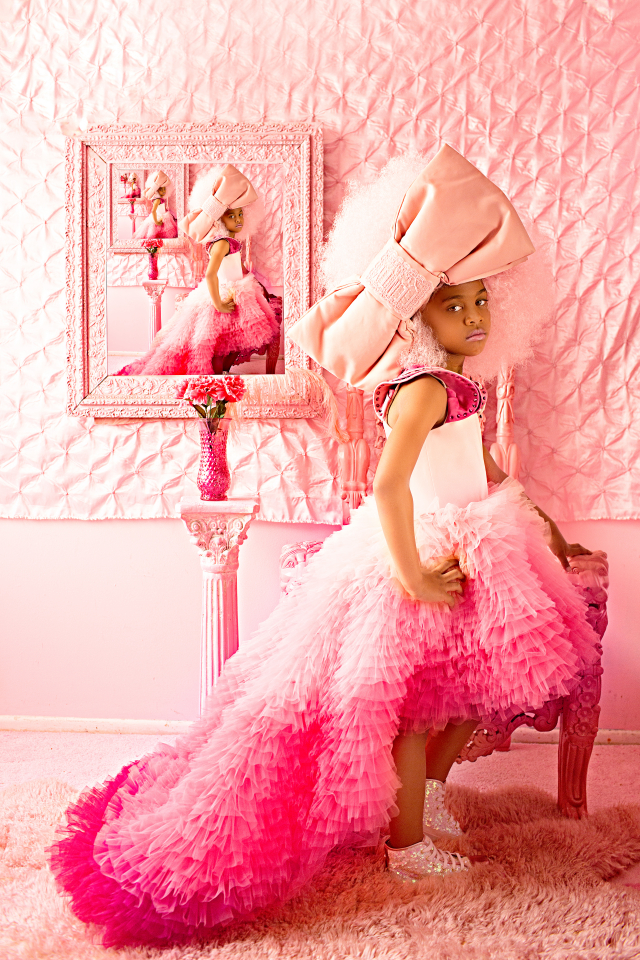 Photo credit: Regis and Kahran Bethencourt
Rolling out wanted to know about the creators of CreativeSoul Photography. Read on to find out what we learned.
Share with us more about your background history and how you both ended up in photography.
Kahran: We both started out in the marketing and design world and fell in love with photography while dating long distance. We would often have "photo dates" to create memories with each other before our next visit.  We've always been our families' photo historians and loved capturing images and creating photo gifts for them each year. We decided to start CreativeSoul Photography together while Regis was in school studying photography.
Why have you both decided to work with children instead of adults?
Both: When we first started out in photography we were shooting a little bit of everything.  As our photography journey continued, we started to get rid of some of the things that did not make us happy and focus on those that did. We love the innocence of children and coming up with unique concepts and photo stories for them.  Although it's often harder to execute a concept with a child it is much more rewarding for us when we see the final product.
How long have you two been married? How did you meet?
Both: We've been married for 5 1/2 years. We started dating 13 years ago in an online forum for graphic designers of color called Soul in Graphics. Although we were not into photography at the moment we were always creating digital art with stock photographs, which has come full circle for us today.  It's cool to see how many great artists have come out of that group.
Where did you learn photography? 
Kahran: Regis went to school for photography and I learned along with him while he was in school, so we kinda got a two for one deal with his schooling. We started our photography business while he was still in school.
Being featured in Essence magazine, on "The Real," and on the OWN Network, are huge milestones. What part of your career led to those experiences?
Both: Our successes have certainly not come overnight — it's been a long, slow journey. Several of our biggest opportunities have come from making great connections with people.  For instance, the opportunity with the Real came as a result of us donating our photography services and time to a young upcoming model with vitiligo. The producers at " The Real " decided to do a story on her and reached out to her for photos. After looking through our work they asked us to be a part of the show as a surprise to the model.
Are there any challenges with photographing celebrities' children?
Both: I think the main things are respecting their time and privacy. There's also the added pressure of getting things just right — no one wants to have bad images out in the press — especially celebrities, so we have to make sure we go over and beyond to do a great job for them.
Do you both take photographs? Or is one of you assigned to edit and retouch?
Kahran: Yes, we both take photographs but we both have unique strengths that we bring to our business. My background in marketing and design and Regis' technical expertise allows us to have our own areas of focus.
How did you expand over the years into commercial photography? How long have you both been in business?
Both: We started out by collaborating with a few brands to incorporate some kids' designer clothing pieces in our editorial shoots. After delivering amazing photos, we were able to land opportunities with them to photograph their catalog and lookbook shoots. When we started photographing more natural hair kids we started getting inquiries from hair care companies as well to help tell their brand story.
What is your ultimate goal for CreativeSoul Photography?
Both: Our ultimate goal is to become a media powerhouse agency providing diverse photography, marketing, and design services to our clients. We'd love to leave a legacy behind that has positively influenced the standard of beauty around the world.
Where can our readers connect with CreativeSoul Photography on social media?  
Both: You can connect with us online at CreativeSoulPhoto.com and on your favorite social media channels: Facebook, Instagram, Twitter and Pinterest.
Photo gallery credit: Regis and Kahran Bethencourt