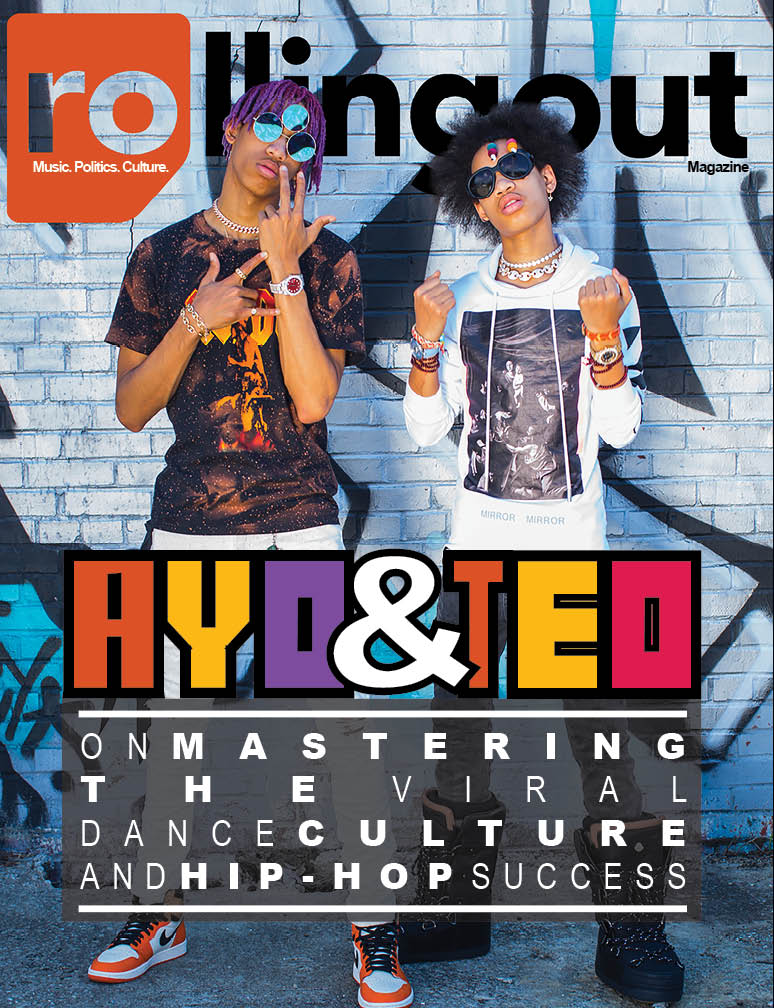 The screams of more than 20,000 fans reverberated throughout Philips Arena in Atlanta as the sounds of "Mask Off" blasted from the arena's speakers. A shirtless Chris Brown danced next to Usher who bobbed his head as Future rapped his biggest hit to date. But while Brown, Usher and Future have solidified themselves as music greats, they probably weren't the biggest viral stars who danced on stage at that moment. That honor could have arguably gone to the sibling dance-rap duo, Ayo & Teo.
Ayo & Teo showcased their majestic footwork while on Brown's national The Party Tour. But one of the most significant moments of the tour was the talented duo dancing alongside Usher, Brown and Future. "We had just finished our set with Usher and Chris Brown," Ayo, who is the oldest and more vocal of the duo, said. "Usher knew how bad we wanted to dance to 'Mask Off' and he called us up on stage and we performed with Future. It was a great moment during the tour."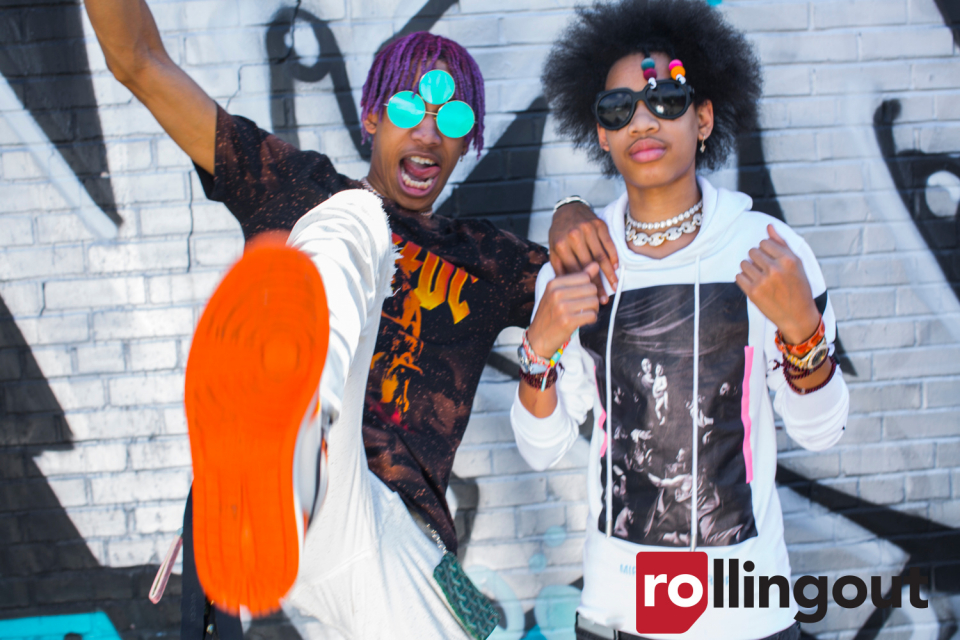 Ayo & Teo understand the value of capturing the moment. The brothers, who hail from Ann Arbor, Michigan, have used social media as a tool to make small dance moments major. A one-minute video they upload to Instagram can achieve 100K views in a matter of hours, while a three-minute YouTube video will garner the attention of millions of viewers.
One of their first viral videos was uploaded in 2014. Wearing mime masks, Ayo & Teo showcased their dance moves at a local talent show. "We started dancing when we were very young," Ayo shared. "Our family bought us toy radios when we were kids and we just danced. We are self-taught, but we learned from watching videos of Michael Jackson, Chris Brown, Usher, and the Les Twins."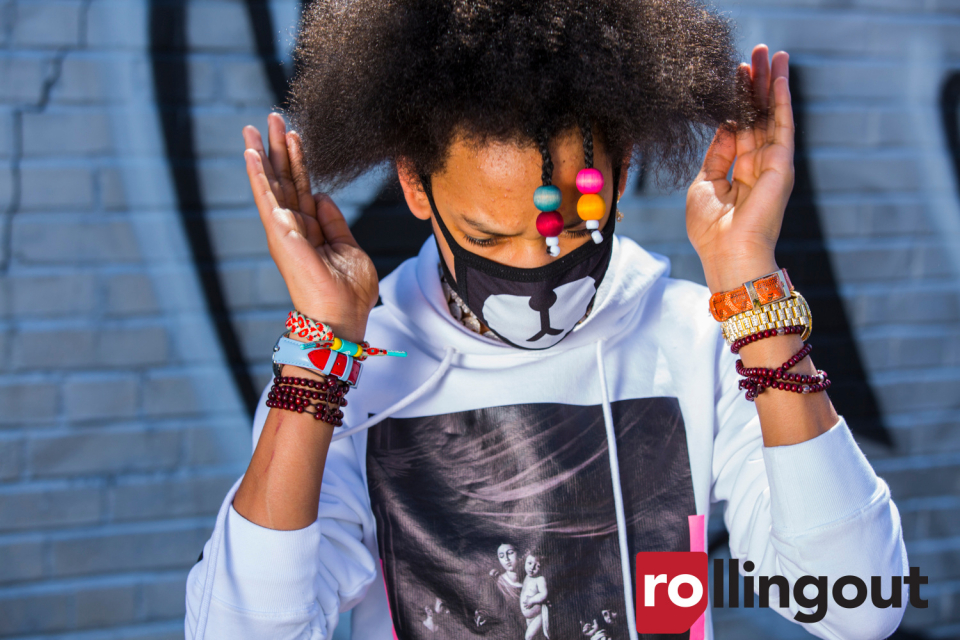 Ayo & Teo mostly rely on their improvisational skills when creating dance videos. They become the beat by instinctively moving to every snare drum kick, bass line, keyboard or trumpet sound. The two interpret lyrics to rap songs through dance movement as if it was the hip-hop answer to gospel's praise dance. Videos of the duo dancing to songs such as 21 Savage's "X"; Migos' "Bad & Boujee"; and DJ Khaled and Drake's "To The Max" allow the brothers to add their original twists to top songs.
But their initial rise in the world of viral dance occurred with their adding twists to dance sensations. Their "reverse challenge" featured the two dancing to popular viral dances in reverse. It was an ingenious idea considering the plethora of viral dances that have gained traction on online. Over the past three years, dancers such as ILoveMemphis' "Hit The Quan"; Silento's "Watch Me"; Mr. Hotspot's "My Friends"; and Meechie and Toosi (what is the song?) (who tour with Future) have proved that there is a significant audience for the new viral  dance culture.
Record labels are keeping their eyes open and scouring social media to discover the next big sensation. It also helps when major artists such Future, Chris Brown and Usher provide a cosign. In the summer of 2016, Ayo & Teo made their national TV debut when they appeared on stage with Usher at the BET Awards. They eventually signed to Columbia Records and released their single "Rolex" at the top of 2017.
"Rolex" inspired the #rolexchallenge, which soon became another viral sensation for the duo. The initial video of "Rolex" has racked up nearly 100 million views on YouTube since January. And "Rolex" is more than dance challenge, the song is building a respectable buzz. The song cracked the top 20 on the Billboard charts.
"When we first heard about the song making it to the Billboard charts, we were excited," Teo says. "But I knew it was crazy when we entered the top 20. The song has only been out for like four months so it's amazing how it's rising so fast."
It's important for artists who are attached to viral dance culture to evolve so that they aren't left behind when the next dance craze emerges. But Ayo & Teo also know that it's important to enjoy and embrace the moment.
"Have fun and don't take things too seriously," Ayo said. "We still have fun and go go-cart racing when we get the time. When we started dancing on Instagram, we didn't know so many people would tag us and help to build our following. So it's good to find something you love to do and keep doing it."
Story by A.R. Shaw
Photos by Emilee Ramsier
[jwplatform MTSg8MdR]