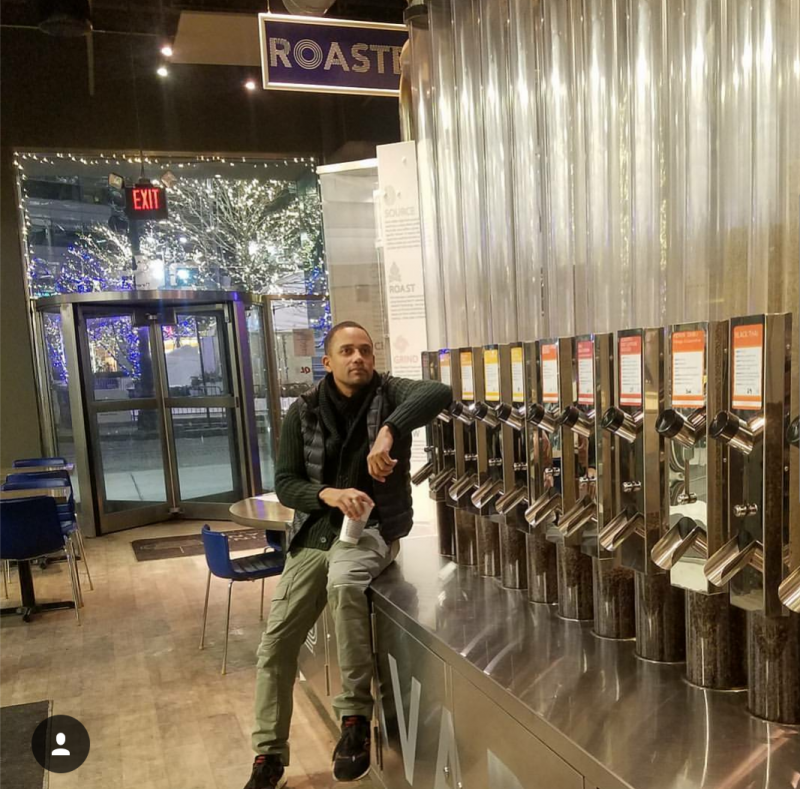 Hill Harper, the award-winning actor, author and philanthropist, recently added investor and entrepreneur to his impressive portfolio of accomplishments. His experience filming Destined, a cautionary tale from Detroit filmmaker Qasim Basir about the consequences of choices, sparked the Homeland actor to open up to rolling out about setting up shop in the Motor City.
We hear that you bought a home in Detroit's historic Boston-Edison District. What made you plant roots in the city?
In the last four years, I've done two films there. I've met so many wonderful people. The city really reminds me of Brooklyn 15-20 years ago. There are a lot of creative artists, entrepreneurs and people that are about social justice and making the community better. There's a real energy in Detroit that fits my energy so it really resonated with me. When there was an opportunity to buy both a business downtown [The Roasting Plant] and a beautiful home in the city of Detroit, I jumped at it enthusiastically.
What was your experience like filming Destined in Detroit? What did you learn about Detroit that you didn't know before?
The second film I shot in Detroit was relatively short, so it was good to be back in the city and work with a talented crew, a great cast and spend time closer to downtown. I got to meet people that worked in and lived around downtown. Since I had a cameo role in Destined, I had some time off to check out some great restaurants and cultural destinations that I didn't have time to when I was here before [filming Parts per Billion].
How did you come to be cast in the film as Mayor Jones?
The producer of Destined, Tommy Oliver, was the writer, producer, director of a film I starred in called 1982. He and Qasim asked me to sit in on auditions to help them cast Destined. There was talk about me playing the lead role if the lead characters were going to be older. I told them I thought they should be younger. As a result, they asked me to add a little bit of comic relief as Mayor Jones. I was happy to do it to support.
How is your character Mayor Jones in Destined different than any character that you've played?
There are a lot of politicians motivated by power, greed and money. You never want to judge a character. You just want to play them and figure out why they do what they do so that it feels truthful and grounded.
Destined's core message touches on how the choices you make can lead you down the right path or wrong path. When have you been faced with making choices that could have led you down the wrong path?
Life is a series of daily choices, minute by minute that impact the course of your journey. That's why the film Destined is so brilliant. You make one choice, your life can go one way or you make another choice and your life will be another way. Sometimes destiny has a way of making choices for us, especially if we don't get out in front of them. It's a really great film in that regard.
Speaking of paths, we also hear that you've invested in Detroit. Tell us about your venture with the Roasting Plant and your nonprofit, Manifest Your Destiny.
Manifest Your Destiny is the nonprofit I founded when my Letters to a Young Brother [which is subtitled Manifest Your Destiny] came out. We've been doing summer empowerment academies all around the country and this summer for the first time we will be having the academy in Detroit at the end of July. The Roasting Company, located right in downtown Detroit inside Campus Martius, is the best coffee in the city. The coffee is delicious, freshly roasted in store. What I love about it is you can hire young people, train them in the coffee business and give them jobs and opportunities. We will eventually start paying [for] student loans. I couldn't be prouder of mixing the idea of social enterprise and entrepreneurship with helping people out.
Why is it so important for you to give back to a city like Detroit?
Spending money is political. You are making a political statement by how you spend your money. If you come support a business like mine with the Roasting Company that supports Dilla's Delights, you are supporting jobs in the community.
Describe what it was like working on one of the most anticipated films of the summer, All Eyez On Me. What does Tupac's legacy mean to you?
Tupac's legacy is so important because he's an artist that combines being contemporarily relevant while at the same time talking about issues and fighting for social justice for people that didn't have a bigger voice. He's the quintessential artist-activist who was relevant in his time. I couldn't be more proud to be in a film of this quality about him. I hope people see it the first weekend. Everyone talks about the kinds of movies they want to be made but if we don't go out see them in the first weekend, the likelihood of those movies being made in the future starts to decrease. With Straight Outta Compton doing so well, you set the stage for an artistic film about Tupac Shakur. Success breeds opportunity. If folks support this film, maybe we'll get an amazing film about [Nina Simone, Harry Belafonte] and all the other folks we should be making films about.
Are there any other new or exciting projects on the horizon for you?
I have a new show, "The Good Doctor" coming out late September on Monday nights at 10 p.m. It's a beautiful show about a young, surgical resident with autism.I play the head of the surgical department where he works. It's about triumph over struggle, perfect for this time with all the injustice, pain and corruption we are witnessing. It's about good triumphing over all of those negative things.
Check out Hill Harper in All Eyez On Me in theaters now. Destined debuts in theaters this fall. The Good Doctor airs in September on ABC. Follow Hill Harper @hillharper on Twitter and Instagram.