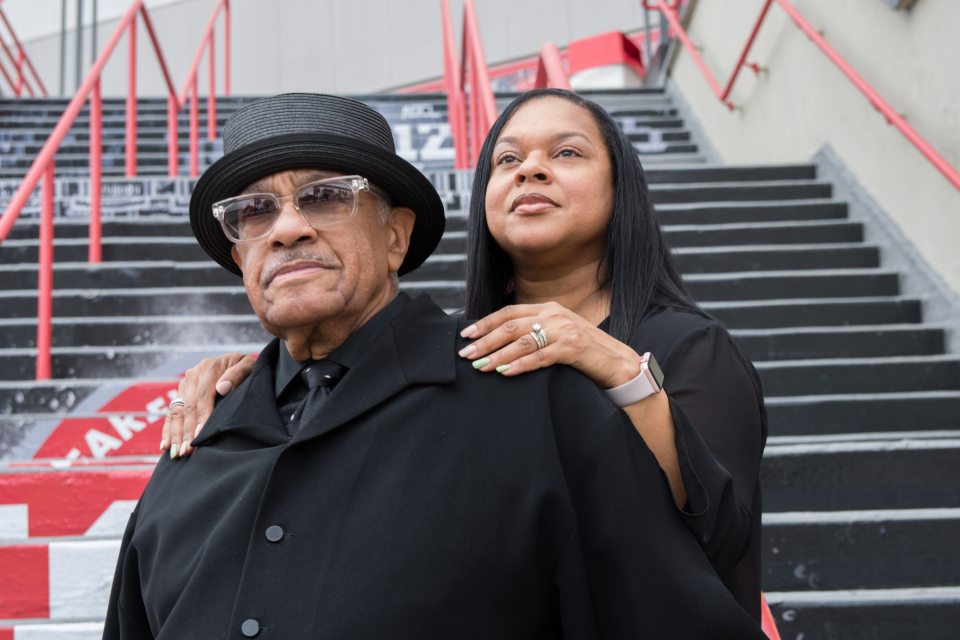 Keia Perry-Farr has grown up surrounded by famous music artists and entertainers all her life. Her dad is the famed award-winning concert-producer Quentin Perry, who was the sole concert promoter of record for the late, great music legend and icon Prince, from 1980 through 1994. She's traveled and vacationed with the likes of Prince, Patti LaBelle, Lionel Richie and so many more.
Perry-Farr and her dad are now business partners and the visionaries of New Day Entertainment. NDE is an elite production company that brings premier entertainment events to various venues throughout the world that includes stellar concert series and extraordinary stage play performances. Perry-Farr currently serves as the chief operations officer, as well as executive producer of NDE. Early on, she earned an impeccable reputation of operating with much class, grace and principles which has garnered her the respect that she currently has in the industry. She has worked with some of the most iconic names in the entertainment industry including the late Rick James and Teena Marie, Janet Jackson, Frankie Beverly & Maze, Chaka Khan, and also the younger entertainment generation including Usher, Lil Wayne, Snoop Dogg and many more.
Rolling out was able to sit down with Perry-Farr to get a glimpse into her life of what it was like growing up in the entertainment industry and also to discuss her current roles at New Day Entertainment. Check out the interview below and drop us a line or two in the comments section to let us know what you think.
Your father is the great award winning concert promoter Quentin Perry! Known for bringing stellar events and concerts – not only around the Detroit area, but also around the world… How did you manage growing up in the industry? What was your childhood like?
I think for me, the best way to respond to that is that I didn't know anything else. So, I didn't really consider that my childhood would be anything different until I would see my friends responding to my life. Normal kids would be like "We had a picnic at our house, and my aunt came, and my uncle came," and I would be like 'Oh, we had a picnic at our house and Lionel Richie came, and the Commodores were there, and Jeffrey Osborne and…'. They would be like "I want to come to your house!"
My childhood was different from the advantage point from me being on the road a lot. I grew up traveling with my parents. So, I was able to really be with artists and embrace them as family. When we were on tour, we would do world tours. We would be gone for a month at a time, back and forth, traveling, spending time together, vacationing together, and so we really became family. And they were an extension of our natural family. And I can just remember lots of precious moments with various artists.
I imagine your childhood being surrounded by a lot of celebrities and musicians. Tell us about some of your fondest memories growing up.
I have three distinct memories from growing up. One was sitting next to Lionel Richie at his piano as he was composing Once, Twice, Three times a Lady. I had the biggest crush on him as a kid. So, I got to sit front and center as that great hit was being developed. Another [memory] for me would be when we had a party for Ms. Patty LaBelle and she was really missing being home, cooking, being with her family so she retreated to my room where I was still sitting up reading the little engine that could. And she was like "Baby, it is time for you to be in bed. Why are you still up?" And I said 'I'm trying to read my book.' And [then] she sang it to me and put me to sleep. If you can't go to sleep with Ms. Patti LaBelle serenading you, then it's something wrong with you. And [lastly], most people know that my father was the promoter of record for Prince from pretty much the beginning – from 1980 to 1994. For 14 years we handled exclusively Prince. I think my fondest memory from childhood would've been being on tour with Prince, who was very soft spoken, very shy, did not like to take a lot of photos. But while he toured, most of the time I was there with him. But when I wasn't, he would always send me a little memento – from a purple amethyst to a glove he wore on stage, to the puppet from Purple Rain, which I still have.  He was just that type of guy, so he's truly missed, but I have so many fond memories growing up.
Did you always want to go into the family business? When did you know it was what you wanted to do?
I always knew that I wanted to be working alongside my father. I went a different route educationally because I have such a passion for youth, so I was degreed in psychology and education from Wayne State University with my bachelor's, and then on to the University of Nevada, Las Vegas, for my masters.  As I studied both at the undergraduate level and the graduate level, I still worked alongside my dad. When I was in Las Vegas, my dad headed up entertainment at the Aladdin Hotel and Casino, so I was able to work with him there while I was going through college at the grad level. Once I came home I really felt a tugging for youth ministry. So, I took a little of a sabbatical from the business and did youth group and youth ministry and formed a non-profit with my husband, Genesis Youth Services. It's a foundation for youth in transition and survivors of human trafficking. That's a platform that me and my husband took to and it's also a platform that New Day Entertainment has adopted as well. But I have always done some form of consulting or social media or marketing even though I lived away from my dad for a period of 12 years. I would try to travel back and forth as much as I could. He really took the reins and continued on. But over the last couple of years I started to really feel that my heart was with him to be working alongside him, so my husband and I and my twin boys packed up from Florida, sold our house and moved back home so that I could pursue this vision full time with my dad.
Your current role is that of COO and executive producer of New Day Entertainment. What does that role consist of?
What doesn't it consist of? Depending upon the type of event that we're having, I wear so many hats. From the inception, typically my dad who is the visionary, would do something in the industry that most people have yet to master, and that is put together an outstanding line up of artists who can come up on one stage and just really make it magical for the people. From that inception, we'll think-tank and I have the task of manning that from start to finish, so that means submitting offers to the various agencies that represent the artists, negotiating the terms of the contracts, trying to get the best deal for our dollar because we are not a large promotion house, like a Live Nation or Olympia Entertainment – who are great allies of ours, but we are a family, father/daughter company. So, starting with getting the offers out, negotiating the terms, keeping in contact with the agencies, making sure that the artists are fulfilling their pre-performance duties such as getting in touch with the radio stations, doing call-ins, doing interviews, even working with Montez Miller to get their photos out and get them pubbing everything on social media. And then, depending on what the terms of the contracts are, making sure that their flights are together, that their travel, their [hotel] room, their catering, everything that they have required in the terms of their contract. For some groups, we actually issue the contracts ourselves. So there's a  component of being able to know the terms that you need to include, the legal verbiage that needs to go in there so that you can protect yourself and protect your company and then working with my production team, which is the greatest production team in the land. We put together an awesome backline, an awesome stage, stellar sounds and lights so that everything comes off so crisp. But the main component is promotion. I believe that the formula that we have, which we refuse to divulge because it comes with years and years of expertise, [enables us] to stay in this business consistently. We tie in our social media, our websites –www.NewDayEntertainmentLive.com , we're on FB, we're on IG, as well as Twitter at New Day Ent Live. So, we've developed a following, and we've developed a fan base. We've branded several of our key events [such as] the Hip Hop Smack Down, the Jazz Spectacular, and the Summer White concert. The thing that is my number one goal, in working from start to finish is making sure that we have the best event that is memorable for our patrons, so that they will come back again, and again, and again. My number one job is to put out fires before the match is even struck.
Take a look at the photo gallery below of several of New Day Entertainment's most notable concerts.
Photo gallery credit: Montez Miller